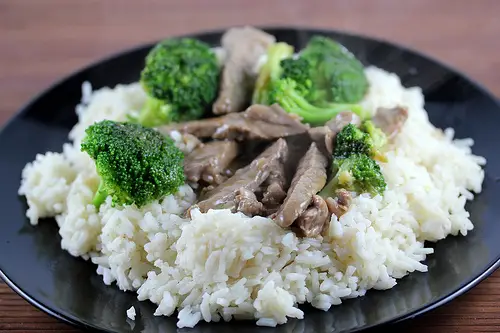 It has been awhile since I have prepared a stir fry recipe so I decided to give this Beef and Broccoli Stir Fry Recipe a try. This is another simple recipe that doesn't require a lot of prep time, just be sure to leave enough time for the beef to marinate. I allowed about 30 minutes and it worked out well, but the longer the better. The main vegetable ingredient in this recipe is the broccoli but I am sure if you wanted to add some onion and green pepper it would work out well. As far as the seasoning, for me it was about perfect, but if you would like to add some heat to it; add some red pepper flakes to taste. If you like Asian food and don't want to take the time to go out, give this Beef and Broccoli Stir Fry Recipe a try, it's very good. Enjoy
Ingredients
1/3 cup oyster sauce
2 teaspoons Asian sesame oil
1/3 cup sherry
1 teaspoon soy sauce
1 teaspoon white sugar
1 teaspoon cornstarch
3/4 pound beef round sirloin steak (cut into 1/8 inch strips)
3 tablespoons vegetable oil
1 thin slice of fresh ginger root
1 clove garlic (peeled and crushed)
1 pound broccoli florets
Rice for serving
Directions
1. Slice the meat and set aside.
2. Mix together the oyster sauce, sesame oil, sherry, soy sauce, sugar, and cornstarch in a medium bowl.
3. Place the steak pieces into a shallow bowl, pour the oyster sauce mixture over the meat, stir to coat well, and marinate for at least 30 minutes in refrigerator.
4. Heat vegetable oil in a wok or large skillet over medium-high heat, and stir in the ginger and garlic. Let them cook in the hot oil for about 1 minute to flavor the oil, then remove and discard.
5. Add the broccoli to the skillet or wok. Stir the broccoli in the hot oil until bright green and almost tender, 5 to 7 minutes. Remove the broccoli and set aside.
6. Add a little more oil to the skillet if needed, then add the steak and marinade; toss to coat. Cook until the meat is no longer pink, and then add the broccoli back into the wok or skillet. Cook until the broccoli is heated through.
Serve over hot rice.
Serves 4