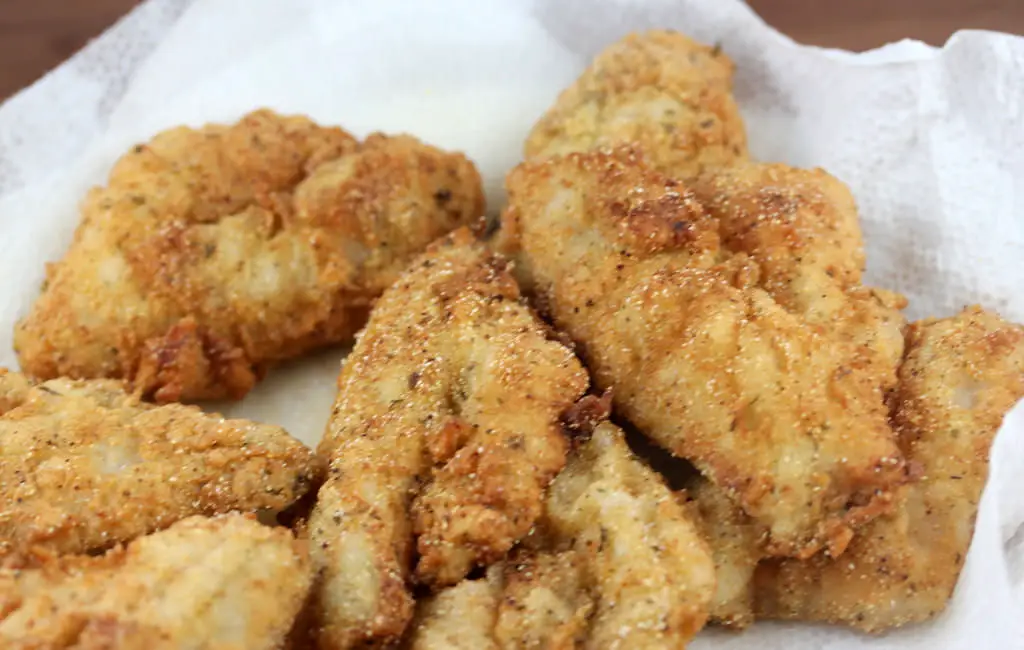 For whatever the reason, it has been another really good fishing year for me here in upper Michigan. The panfish have been biting really well and each trip has produced a good quantity of fish. This has given me the chance to try a number of fish coating recipes. I think this Cajun Fried Pan fish Fillets Recipe is one of the better ones. The combination of seasoning is just right and doesn't overpower the taste of the fish.
For this recipe, I used crappie fillets, but perch, or bluegills, will work just as well. This is a simple and quick recipe to put together and doesn't require a lot of prep time.  But you need to have a good fish fillet knife, if you don't check this buying guide. I deep fried the fish with oil in a cast iron pan but you could also use a deep fryer.
The next time you have some panfish on hand give this Cajun Fried Pan fish Fillets Recipe a try; it's really good.
Cajun Fried Pan fish Fillets Recipe
Author:
Prep time:
Cook time:
Total time:
Print
Cajun Fried Pan fish Fillets Recipe
Scale
Ingredients
1

pound pan fish fillets

1/3 cup

yellow cornmeal

1 1/2 cup

s all-purpose flour

1

egg (lightly beaten)

1/2 cup

of milk

1/2 teaspoon

onion powder

1/4 teaspoon

garlic powder

1/2 teaspoon

paprika

1 teaspoon

dried parsley flakes

1/2 teaspoon

dried oregano

1/4 teaspoon

cayenne pepper
vegetable oil for frying

1/4 teaspoon

salt

1/2 teaspoon

black pepper
Instructions
Rinse fish fillets and pat dry with paper toweling (remove the skin – optional)
Place ½ cup flour in a shallow dish such as a pie plate. In another shallow dish whisk together the cornmeal, 1 cup flour, onion powder, garlic powder, paprika, parsley flakes, oregano, cayenne pepper, salt, and pepper.
In a small bowl mix together the milk and egg.
Roll each fillet in the flour, dip in the egg mixture, and then in the cornmeal mixture to finish coating; set aside on a plate.
Cook fish in batches – deep fryer at 375F, or in a large skillet over medium-high heat until golden brown on both sides. (My favorite is a cast iron skillet for this)
Place fillets on a plate lined with paper toweling to catch any excess oil.
Adapted from allfishingbuy.com