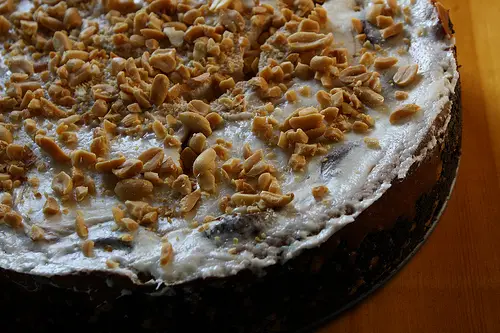 My Son's birthday is today, and he just loves cheesecake. This  Reese's Peanut Butter Cup Cheesecake Recipe had turned into one of our favorites. I used low fat cream cheese on this recipe to help hold the calories down a little bit. But I can still say this is sinfully delicious. If you are looking for a health food skip this one. I guarantee if you give this cheesecake recipe a try it won't be around long. Enjoy

Reese's Peanut Butter Cup Cheese Cake Recipe
Ingredients
Crust
4 ½ cups Oreo cookies (crushed)
1 cup roasted peanuts (chopped)
½ cup butter (melted)
Filling
2lbs cream cheese (softened)
5 eggs (at room temperature)
1 ½ cups firmly packed brown sugar
1 cup smooth peanut butter
½ cup whipping cream
1 teaspoon vanilla extract
12 Reese's Peanut Butter Cups
Topping-
3 ounces sour cream
½ cup sugar
Instructions
Directions for Crust
Put Oreo cookies and peanuts in a food processor and grind. Mix ground Oreo cookies and peanuts with the melted butter. Press the mixture onto the bottom and up the sides of a greased 10" spring form pan to make the crust.
Directions for Filling
To make filling- In a large bowl beat cream cheese with an electric mixer until smooth. Add eggs one at a time and beat after each egg is added. Add sugar, peanut butter and whipping cream. Mix until smooth.
Fold in pieces of Reese's peanut butter cups with a rubber spatula. Pour filling into prepared crust.
Place into the oven and bake at 275 degrees for 1 ½ hours or until firm and lightly browned.
Combine sour cream and sugar and pour over the cheesecake. Return cheesecake to the oven and bake for 5 minutes. Remove from the oven and allow cheesecake to cool for 1 hour. Place into the refrigerator for at least 4 hours.
Serve and enjoy!