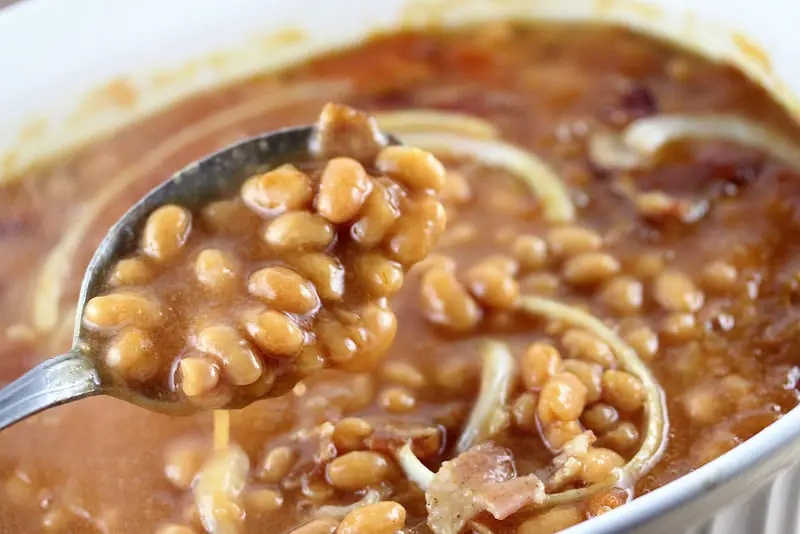 For a quick baked beans recipe these Maple Baked Beans are really good. They don't require many ingredients and don't have to soak overnight, or spend hours in the oven or slow cooker.
I needed a quick baked beans recipe to go with a fish fry, and this recipe turned out to be a perfect match.
The next time you need a good side dish give this Quick Maple Baked Beans Recipe a try.

Quick Maple Baked Beans Recipe
Ingredients
2 cans pork and beans (15 ounces each)
¼ cup real maple syrup
2 tablespoons ketchup
2 tablespoons yellow mustard
2 bacon strips (cooked until crispy and crumbled)
1 medium onion (cut in half and sliced – separated into ½ rings) Use your own judgment on this. Use an amount of onion you are comfortable with; to taste.
Instructions
Preheat oven to 350F. Spray an 8 x 8 casserole dish lightly with cooking spray.
In a large bowl mix together the pork and beans, syrup, ketchup, and mustard; pour mixture into casserole dish.
Sprinkle bacon bits over the top, and then top with the onion rings.
Bake for 40 – 45 minutes or until hot and bubbly.
Adapted from Tasteofhome CookBook