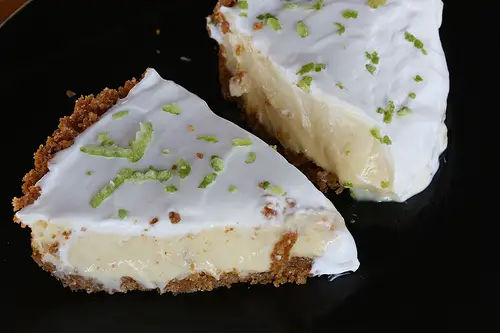 This is a great pie for the Holiday season. You and your guest will love it.
There seems to be very little history as to when Key Lime Pie was introduced. Doing a little research it seems like it was somewhere around the 1800's  in or around Florida. This is a simple recipe and doesn't take a lot of prep time; but be sure to allow enough time for the cooling.

Key Lime Pie Recipe
Ingredients
½ cup granulated sugar
4 tablespoons (1/2 stick butter) melted
2 (14-ounce) cans condensed milk
1 cup key lime or regular lime juice
2 whole eggs
1 cup sour cream
2 tablespoons powdered sugar
1 tablespoon lime zest
Instructions
Preheat the oven to 375 degrees F.
Directions for Crust
In a bowl, mix the graham cracker crumbs, sugar, and butter with your hands. Press the mixture firmly into a 9-inch pie pan, and bake until brown, about 20 minutes. Remove from the oven and allow to cool to room temperature before filling.
Lower the oven temperature to 325 degrees F.
In a separate bowl, combine the condensed milk, lime juice, and eggs. Mix until well blended and place the filling in the cooled pie shell.
Bake in the oven for 15 minutes and allow to chill in the refrigerator for at least 2 hours.
Once chilled, combine the sour cream and powdered sugar and spread over the top of the pie using a spatula.
Sprinkle the lime zest as a garnish on top of the sour cream and serve chilled.