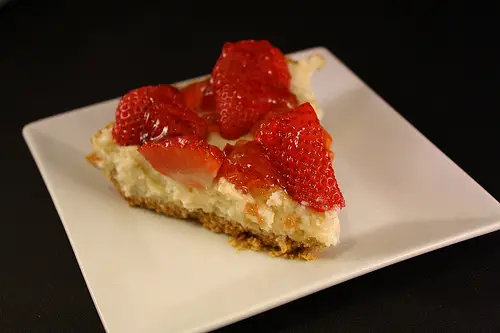 This is the simplest cheesecake recipe I have ever prepared. There is very little prep time and very little work involved. When I saw this recipe; it was so simple; it made me nervous about what the outcome would be. The result was a colorful and delicious desert. In many parts of the country it is very near the strawberry season, make yourself a treat with the fresh berries. Enjoy

Fresh Strawberry Cheesecake Recipe
Ingredients
1 (6 ounce) 9-inch graham cracker crusts, from the store or your favorite recipe
⅔ cup evaporated milk
1 (8 ounce) package fat free or regular cream cheese, softened
1 large egg
½ cup granulated sugar
2 tablespoons all-purpose flour
½ teaspoon lemon juice
1½-2 cups halved fresh strawberries
3 tablespoons strawberry jelly, warmed
Instructions
Preheat oven to 350F.
Place evaporated milk, cream cheese, egg, sugar, flour and mix until well blended. Then add and mix in the lemon juice.
Pour into the prepared pie crust and bake 30 to 40 minutes until the center has set.
Cool completely in pan on wire rack.
Arrange strawberries on top of pie; drizzle with jelly.
Refrigerate for 2 hours before serving.