The right grate enhances food flavour and texture.It's crucial to choose the correct cooking grates for your Weber barbecue. Many grates are made of porcelain-coated steel or cast iron. Regular steel grates are less expensive, but they will not withstand the heat or misuse. If not correctly cared for, their edges can be chipped and nicked, and they can rust. An actual stainless steel grate is smoother and less likely to cling, as well as rust.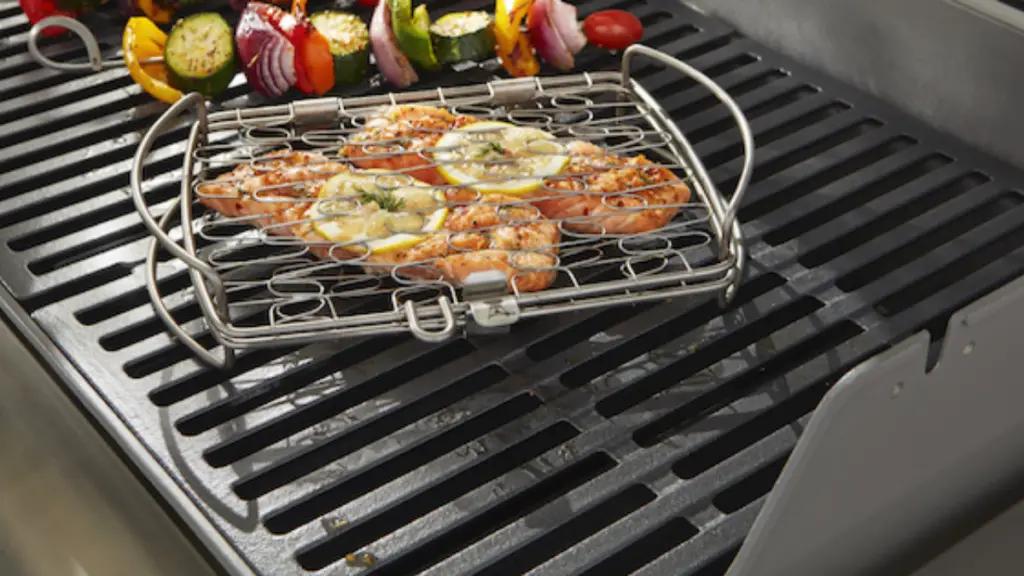 There are significant distinctions between stainless steel and cast iron Weber barbecue cooking grates. While cast-iron cooking grates are ideal for a typical Weber barbecue, a stainless steel grilling grate is the most adaptable and long-lasting option. A cast iron grate can easily be replaced with a stainless steel grate in a barbeque set.
For your Weber barbecue, stainless steel grill grates are the best option. Stainless steel cooking grates are more durable and easy to clean than cast iron. Furthermore, they provide flawless sear marks on your food. They're also available for a fair price at The BBQ Depot. They come in a range of materials and colors, so you can find one that matches your Weber grill perfectly.
Here Are Some Best Cooking Grates For Weber Grills
Weber Hinged Cooking Grate
Hinged grill grates are perfect for adding charcoal and wood to a barbecue without completely removing the grate. Replacing the conventional grate with a flip-side grate is a simple upgrade for a Weber Kettle. This is an excellent feature to have for extended cooks that may necessitate the addition of charcoal or wood during the cooking process.

Weber 7435 Cooking Grate, Silver 
A thicker cast iron grill is also preferable when grilling delicate pieces like fish or thin slices of poultry. It may be tempting to use an enamel-coated cast iron grate to boost corrosion resistance, and the issue is that enamel is frequently less durable than the cast iron it covers.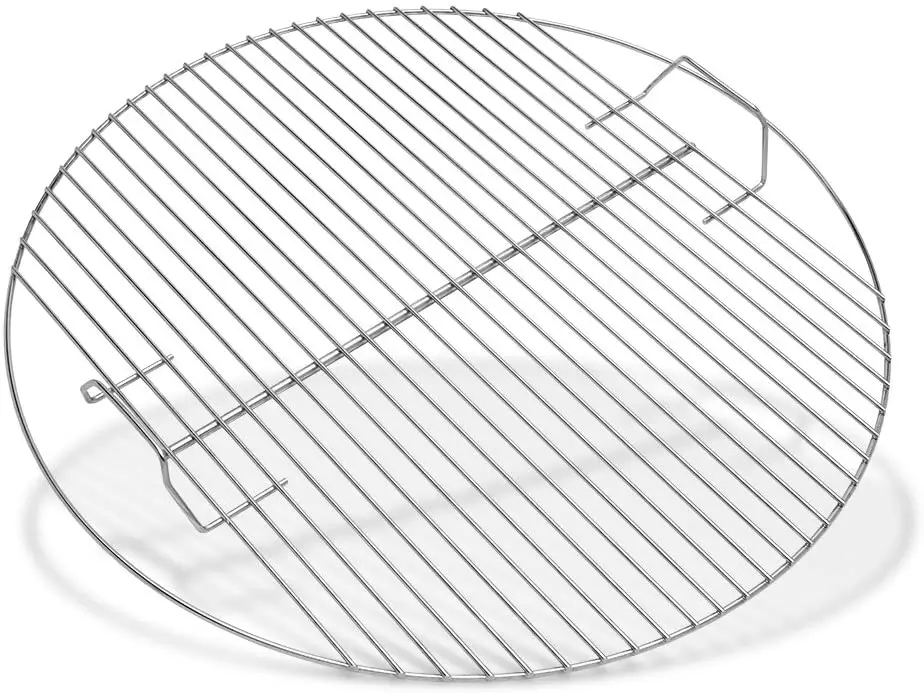 Weber 8835 Gourmet BBQ System Hinged Cooking Grate
The Hinged Cooking Grate from the Gourmet BBQ System allows you to add more charcoal without removing the grate. Traditional grilling is possible with the 12-inch plated grate insert. It Fits Weber charcoal barbecues with a 22-1/2-inch diameter.

QuliMetal Cast Iron Gourmet BBQ System Cooking Grate for 22 1/2 Inches Weber
Traditional grilling with a 12-inch cast-iron grate insert. Remove the grate insert to add more charcoal without removing the grate. The total cooking grate measures 21.5″ in diameter, with a 12″ inner cooking grid. The cost of aftermarket replacements is more than the cost of the original. Before placing an order, please double-check and match the dimensions with your original parts.
To ensure long-term use, it's made of heavy-duty cast iron. Cast iron grates not only heat evenly and keep heat well, but they also provide professional searing, allowing for a noticeable sear.

Only fire Barbecue Cooking Grate System Grilling Accessory for Weber
Models compatible Fits 22″ Weber kettle grills and other kettle grills of similar dimensions. Converts your grill into a grilling and searing machine in no time. Rack with a stable foundation The grill cooking system includes a base rack that sits on the original grill grate tabs and two tangs that line up with these tabs to lock everything in place and prevent it from spinning.
Heat deflectors are included. 2 half-moon heat deflectors can be used for heat deflection while smoking or to provide even indirect heat for sensitive foods. Grates for cooking are included. 2 half-moon stainless steel grates are included, providing you with more significant cooking space to simultaneously suit the barbeque heat requirements of multiple foods.

Weber 7439 Replacement Charcoal Grate
Weber accessories are designed to deliver the same long-lasting performance as our grills, ensuring that grilling is a success every time. The heavy-gauge steel replacement charcoal cooking grate fits all 14-1/2-inch kettles.

Stanbroil Solid Rod Stainless Steel Grill Cooking Grates for Weber
Using a wire brush or steel wool on the grill can leave pits and scratches, eventually filling with burnt-on material and making cleaning the grill more difficult. When cleaning stainless steel grill racks, never use an abrasive cleaner.

AJinTeby Heavy Duty Plated Steel Hinged Cooking Grate and Lower Grate, Charcoal Grate for Weber
Weber 22 and 22.5-inch smoky mountain cooker, one-touch, performer, barb-kettle, and master-touch charcoal grill replacement parts kits Weber 7436 cooking grate, Weber 85041 lower grate, and Weber 63014 charcoal grate are all compatible. Included in the package is 1 x 21.5″ Cooking Grate 1 x Lower Cooking Grate, 20.75 in. 1 x Charcoal Grate, 18 3/10 inch High-quality
stainless steel is corrosion-resistant, anti-rust, and extremely long-lasting. 100% Customer Satisfaction-If you have any issues, please do not hesitate to contact us. We attempt to give our consumers the best items, the most efficient transportation, and the most pleasant service.

What Are The Best Grill Grates?
A robust and heavy cast iron grate is the most incredible option for long-term durability and the best-grilled dishes. The quality of your cooked meats will noticeably improve, and you'll quickly see why it's the recommended material for a barbeque Porcelain grill grates may be the finest choice if you frequently cook on low heat, as you would with delicate items like fish and vegetables. However, if you prefer hot things, you'll need grates that can retain a lot of heat (cast iron).
Is It True That Weber Grills Are Superior?
Weber gas grills are cheap but produce great results and have great customer service. Home improvement stores sell some of the best grills. Weber has had a lot of success because their gas grills are long-lasting, stylish, and trustworthy, and they come with a 10-year warranty. Weber gas grills are cheap but produce great results and have great customer service.
Is It True That Weber Grills Are Built In China?
Weber's corporate offices are in Palatine, Illinois, while the company's production site is in Huntley, Illinois. On the other hand, most Weber grills are produced with global components, and some are even made in China and Taiwan. Since 1952, when George Stephen created his kettle grill from a buoy at Weber Brothers Metal Works in Mount Prospect, Illinois, Weber grills have been made in the United States. All but one of the most recent models are still made in Palatine, Illinois.
For your Weber barbecue, the best option is a robust stainless steel grate. If you're looking for a new cooking grate, one with a concave surface is a good option. The grate's narrow flat side should face upwards. This will provide your meal with the most contact and your grill the best grill marks. Although making a mistake with a fresh grate is easy, it will make cleaning much easier, and your guests will love the clean grilled result.
For Weber grills, cast iron cooking grates are the ideal alternative. On one side, these reversible grates have a tiny pointed edge, and on the other, they have a wide flat edge. Compared to stainless steel grates, they will last longer and cost less to replace. They are, however, hefty and challenging to transport. The right grate enhances food flavour and texture.
Conclusion
Weber barbecues come with three different styles of grilling grates. Cast iron is the cheapest, followed by stainless steel. Although stainless steel is a superior option to cast iron, it is more costly to purchase and maintain. Weber barbecue replacement parts are available at The BBQ Depot. Because the price of frying grates varies, you should think about the material before purchasing.
Stainless steel cooking grates are ideal for Weber grills. Because metal grates are easy to clean, they are superb for grilling large items. A porcelain grate is a beautiful option to cook small foods on a Weber grill. However, if you need to replace the stainless steel grate, you should consider obtaining one from a trustworthy grill parts source.