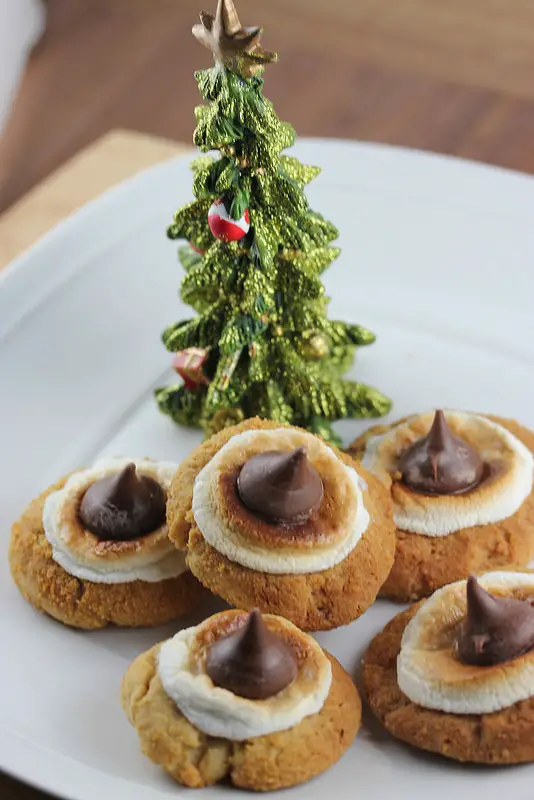 What would the Holidays be without cookies? These S'mores Blossom Cookies are delicious and have a perfect combination of flavors for the holiday season.
This is a simple and quick recipe that makes 24 cookies depending on the size you make.
Bake some of these cookies up for Christmas; you and your guests will love them.
S'mores Blossom Cookies Recipe
Ingredients
1¼ cups all-purpose flour
½ teaspoon baking powder
¼ teaspoon baking soda
¼ teaspoon salt
8 tablespoons unsalted butter (softened)
½ cup sugar
1 cup graham cracker crumbs (about 8 crackers)
1 large egg (room temperature)
1 teaspoon vanilla extract
12 large marshmallows (cut in half crosswise)
24 Hershey's Chocolate Kisses
Instructions
Preheat oven to 350F and line 2 baking sheets with parchment paper.
In a medium size bowl whisk together the flour, salt, baking powder, and baking soda.
Using a stand mixer with paddle attachment on medium high speed mix together butter, sugar, and ½ cup graham cracker crumbs until mixture is light and fluffy. (If you don't have a stand mixer a regular mixer should work fine)
Reduce speed to low and gradually add the flour mixture mixing until just moist (If not using a stand mixture use a spoon).
Place the rest of the graham cracker crumbs in a shallow dish, measure the dough out 1 tablespoon at a time and form a ball like you are making meat balls, roll in the cracker crumbs too coat, placing 12 on each cookie sheet.
Bake one sheet at a time for 10 – 12 minutes until edges start to crack, remove from the oven, and switch oven to broil,
Let cookies cool for 5 minutes and then place a marshmallow slice on the top of each cookie.
Broil cookies 10 inches from the broiler element until deep golden brown.
Remove from the oven and immediately place kisses on top of each cookie; transfer to wire rack to cool.
Repeat the process with the other sheet of cookies.
Note: on the second tray I used a fork and flattened the balls a little bit to make the tops a little flatter to hold the marshmallow – this seemed to work real well.
Adapted from Cooks Country