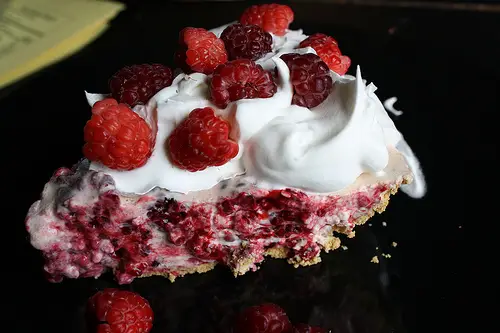 Wow! The raspberry bushes are just loaded here this year. Fresh and sweet. You will just love the fresh raspberry flavor in this Raspberry Cream Cheese Pie.
Topped off with more fresh raspberries and whipped cream, it is delicious. This recipe is quite simple and there is not a whole lot of prep time involved. What a great after dinner treat!
Raspberry Cream Cheese Pie Recipe
Ingredients
2 cups graham cracker crumbs
¼ cup granulated sugar
½ cup melted butter
1½ teaspoons cinnamon
8 ounces cream cheese, at room temperature
¼ cup granulated sugar
¾ cup cream
1 teaspoon unflavored gelatin
½ cup water
1 lb fresh raspberry or frozen raspberries, thawed and drained
whipped cream (to decorate)
Instructions
Combine graham cracker crumbs, sugar, melted butter.
Press into a 9-inch pie pan, set aside.
Beat cream cheese , sugar and cinnamon until smooth.
Whip cream and gently fold into cheese mixture.
Soak gelatin in water 5 minutes in the top of a double boiler, over hot water.
Stir gelatin mixture until completely dissolved.
Stir gelatin into cream cheese mixture.
Fold in raspberries.
Pour into prepared crust.
Chill for 2 to 3 hours.
serving, decorate with whipped cream.