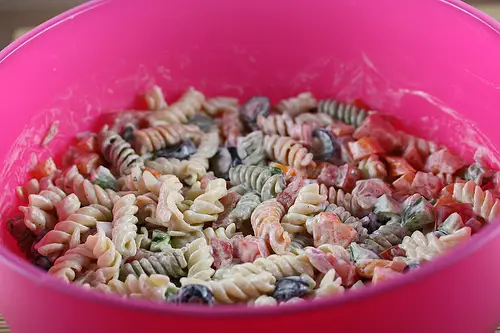 They needed some help at the church again and I was asked if I could contribute a dish, and this Classic Italian Macaroni Salad Recipe was it. I was pinched for time and it was short notice so this recipe worked out fine. It doesn't require a lot of prep or cooking time and it is a very simple recipe to prepare. This recipe really creates a nice looking and very colorful salad due to the rainbow pasta, tomatoes, and peppers. If you need a larger recipe just double or triple the amount of ingredients. The next time you have a pot luck or need to bring a dish to a get together give this Classic Italian Macaroni Salad Recipe a try; the guests will love it. Enjoy
Classic Italian Macaroni Salad Recipe
Ingredients
1 cup mayonnaise
1 tablespoon red wine vinegar
1 teaspoon salt
¼ teaspoon ground black pepper
1 clove garlic, minced
1½ tablespoons chopped fresh basil
1 pound cups rainbow Rotini pasta
1 cup chopped tomatoes (seeds removed)
½ chopped yellow bell pepper
½ chopped green pepper
½ red onion finely diced
½ cup sliced black olives
Instructions
Cook pasta according to package directions. Rinse in cold water, and drain.
In a large mixing bowl, whisk together mayonnaise, vinegar, salt, black pepper,Basil, and garlic until well blended.
Mix together the pasta, tomatoes, bell peppers, onion, and olives; fold gently until mixed, then add the dressing mix prepared in step 2.
Let cool in the refrigerator for several hours.