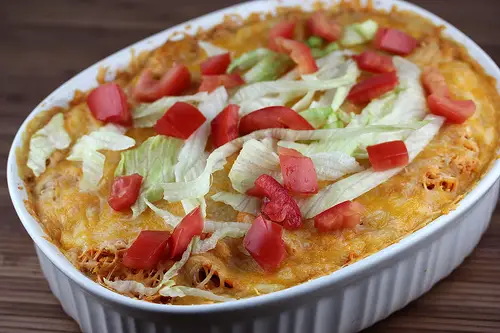 I was in the mood to put a one dish dinner together so I decided on this Dorito Chicken Casserole Recipe. This is an easy recipe that calls for precooked chicken-so you can use leftover chicken or cook the chicken ahead of time depending on what your time permits. There are quite a few flavors of Doritos but I decided to go with the conventional which I consider being the Nacho Cheese. The Nacho cheese flavor blended very well with the Mexican blend, but it would be interesting to try some of the other flavors in this recipe. This is another recipe, that simple turns out to be good. The next time you have some leftover chicken, or are in the mood to put together a one dish meal, give this Dorito Chicken Casserole Recipe a try. Enjoy Adapted from Blogchef.net
Dorito Chicken Casserole Recipe
Ingredients
2 cups shredded cooked chicken
2 cups shredded Mexican cheese blend (divided)
1 (10 ounce) can cream of chicken soup
½ cup milk
½ cup sour cream
1 can Ro-tel tomatoes (drained) Mild or Hot depending on your taste.
½ packet taco seasoning
1 large bag Doritos
Shredded lettuce (optional)
Fresh diced tomato (optional)
Instructions
Cook chicken and set aside. (Chicken can be cooked ahead of time)
Preheat oven to 350F.
In a large bowl mix together shredded chicken, 1 cup of cheese, cream of chicken soup, milk, sour cream, Ro-tel tomatoes, and taco seasoning.
Spray a 2 quart casserole dish with cooking spray and layer the ingredients starting with crushed Doritos, and then the meat mixture. Repeat the process.
Top the casserole with crushed Doritos and the remainder of the cheese. Bake for 30-35 minutes until hot and bubbly.
Serve hot topped with chopped fresh tomatoes and lettuce.