I loved Stuffed Shells. This Italian Stuffed Shell recipe is great. I don't do these very often, because they are a lot of work. If you have the time they are well worth the effort. If you are cooking for a crowd double or triple the recipe. Guaranteed these Stuffed Shells will be a hit. When you are cooking the shells treat them gently or they will break apart. Use salt in the water to keep them from sticking together.
To round your dinner off nicely serve with Garlic Bread.
Italian Stuffed Shell Recipe
Ingredients
1 lb ground beef
1 large onion, diced
1 clove garlic, chopped
8 ounces mozzarella cheese, shredded
½ cup Italian style breadcrumbs
¼ cup fresh parsley, chopped
1 egg, beaten
1 (26 ounce) jar of your favorite spaghetti sauce
8 ounces tomato sauce
½ cup parmesan cheese, grated
18 jumbo pasta shells, cooked and drained
⅓ cup dry red wine
Instructions
Cook the shells according to directions on package.
In a large fry pan brown the Burger, Onion and Garlic. Drain and let cool.
After the burger has cooled combine meat, mozzarella cheese, bread crumbs, egg and parsley; season with salt and pepper.
Mix spaghetti sauce with tomato sauce; cover bottom of a 13x9 casserole dish with ¼ of the sauce.
Stuff cooked, drained shells with the meat mixture and place on top of sauce in dish in a row.
Add red wine to remaining sauce and mix well; cover shells with sauce and sprinkle with parmesan cheese.
Bake in oven for 20-25 minutes or until bubbly and browned.
I save a little of the Mozzarella Cheese and use it to garnish the top soon as it comes out of the oven.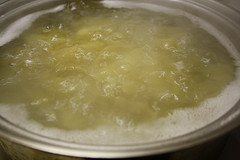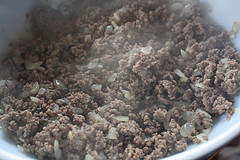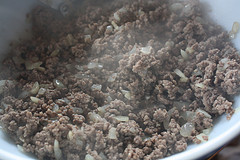 Enjoy!