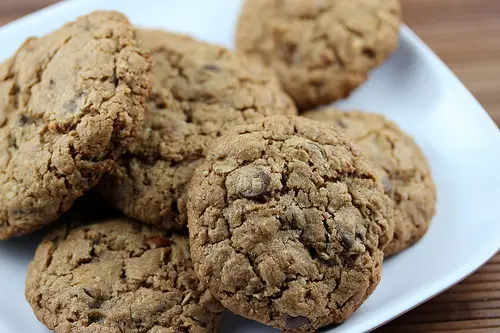 With the holiday season coming up I thought it would be a great time to start baking some cookies with the intention of freezing some of them for the Christmas season. I have made oatmeal chocolate chip cooking before, but this recipe takes it to the next step by incorporating chocolate and chocolate chips into the cookies.  This Chocolate Oatmeal Cookies Recipe is a recipe you will be sure to love, if you love chocolate, you'll love these Chocolate Oatmeal Cookies.
The problem I'm having is, they are delicious dunked in my coffee in the morning; if I don't quit there won't be any left to put in the freezer for Christmas.
If you want to take oatmeal cookies to the next level give this Chocolate Oatmeal Cookies Recipe a try; the whole family will love them. Enjoy
Chocolate Oatmeal Cookies Recipe
Ingredients
1¾ cups old fashion rolled oats
1 cup all-purpose flour
¾ teaspoon baking powder
½ teaspoon baking soda
½ teaspoon salt
10 tablespoons unsalted butter
1 cup light brown sugar (packed)
1 large egg
1 teaspoon vanilla extract
3 ounces melt chocolate-melted and cooled
1 cup semi-sweet chocolate chips
1 cup chopped walnuts
Instructions
Preheat oven to 350F.
Place one cup of oats in a blender and process until well ground. In a large bowl mix together the ground oats, flour, baking powder, baking soda and salt.
In another large bowl using an electric mixer combine the butter and sugar until smooth. Add egg and vanilla; continue mixing until mixture is light and fluffy. Using a large spoon mix in the melted chocolate until well combined. Stir in the flour mixture until moistened and well combined, and then fold in the rest of the rolled oats, chocolate chips, and nuts.
Using about 2 tablespoons of cookie dough at a time, roll the dough into balls and place on a cookie sheet lightly sprayed with cooking spray about 2 inches apart. (Or use parchment paper)
Bake for 14-18 minutes until cookies start to crack and still show some moisture in the cracks.
Let cookies cool on the baking sheet for several minutes, and then place them on a wire rack to cool.