When it comes to buying the best porcelain pots for cooking, you'll want to make sure that you spend some time considering what you'll be using them for. Aside from being beautiful, they are also durable and will last for many years. However, you'll have to take care of them properly to keep them looking their best.
Before buying any cookware, make sure that it's made of high-quality materials. Porcelain is more expensive than ceramic, but it's also more durable than steel or aluminum. This means that you can pass it on to your children and still be able to use it for years to come. A porcelain cookware piece is also aesthetically pleasing, so you'll be proud to show it off to your guests.
Benefits of Cooking With Porcelain
A porcelain cookware set provides numerous advantages. Dishes are simple to clean.
This helps you enjoy your meals and spend quality time with your family without worrying about the effort required to clean up after the meal.
Your plates will also be free of stains from the food you've prepared on them.
They are not reactive since they resemble ceramics, and their non-reactive nature ensures that your food retains its flavor.
The porcelain coating protects against oxidation and corrosion. The non-reactive nature of porcelain cookware poses no risk to your health.
The materials used in constructing these pots and pans ensure that they will endure a long time if handled with care. If they are dropped, they may break.
When buying porcelain cooking pots, the first thing to remember is to read the manufacturer's instructions attentively. Make sure the pot you purchase is dishwashing safe and won't fade. You won't have to worry about staining or damaging your dishes with a porcelain-enameled pot because it's non-reactive. Porcelain cookware is also much easier to clean than uncoated metal cookware.
Best Porcelain Pots For Cooking
Here are some porcelain pots for cooking:
Heat Resistant Fine Porcelain Casserole/Clay Pot/Earthenware Pot

Features:
Heat-resistant fine porcelain casserole with lid, 1600ml red color. Temp Range: -20'C ~ 500'C!

Ergonomically designed pot handles are heat resistant for safety and convenience!

The high-quality bakelite lid knob is heat resistant, non-slip, and waterproof for easy grip and use!

Eco-Friendly! Natural heat-resistant clay used for ceramic/porcelain glaze is thus harmless, food-safe, and hygienic!

Flame! Gas! and Radiant cookers! Microwave safe, dish-washer safe, and freezer safe! Cook, serve, and store all in one pot!

Features:
Allows for better caramelization and browning than stockpot alternatives.

It weighs less than most dutch ovens of similar size, so it's easier to move around!

Maintains a steady heat for a long time, which is perfect for soups, stews, and congee and also used as a serving dish.

Handles traditional tasks like boiling dumplings, noodles, and wontons with ease.

Tested and confirmed free of heavy metals, up to FDA standards.

Features:
Made in extremely high temperatures of 1250′ C and fired up for 20+ hours.

Temperature Ranges: -30'C ~ 500'C. It is highly heat resistant and water-resistant!

Design: Vent on lid prevents food overflow. Cookware reduces food odors during cooking.

Compatibility: Gas, Electric, Halogen. Dishwasher Safe! Oven Safe! Very Durable!

Eco-friendly Cookware: Made with natural materials, no chemicals, hygienic and safe.
 Features:
Speckled porcelain enamel exterior with stylish blue color makes the pots and pans STAIN and FADE resistant. The inside non-stick coating gives a premium non-stick performance to the cookware set.

Provide super even heat distribution and dent resistance. OVEN SUITABLE up to 350 F

Even if you accidentally overheat your pans, toxins like PFOA PFAS WON'T be given off. The aluminum core inside heats fast and steadily—no hot spots.

Color-coordinated, dual-riveted bakelite handles with exceptional finish are ergonomically designed to provide a comfortable, secure grip.

Dish-washer is suitable. Suitable for gas, electric, and halogen oven. NOT for induction stovetop.
GreenPan Rio Healthy Ceramic Nonstick, Cookware Pots and Pans Set

Features:
Cookware Set Includes: 5″, 8″, and 10″ frypans; 1.2 quart and 2.2-quart saucepans with lids; 2.8 quarts sauté pan with lid; 5-quart casserole with lid; stainless steel steamer; and four bamboo tools

GreenPan's Thermolon healthy ceramic non-stick coating is free of PFAS, PFOA, lead, and cadmium, so it will never release toxic fumes, even if it's accidentally overheated

The tough, diamond-reinforced non-stick coating is incredibly durable

Heavy-gauge construction provides excellent heat conduction

Oven safe up to 350Dish-washersher safe for easy cleanup.Durable glass lids for easy food monitoring, oven safe up to 350°F.Bakelite handles stay calm and allow total control with a relaxed, comfortable grip. Easy to clean exterior.Safe for all stovetops except induction
Amazon Basics Non-Stick Cookware Set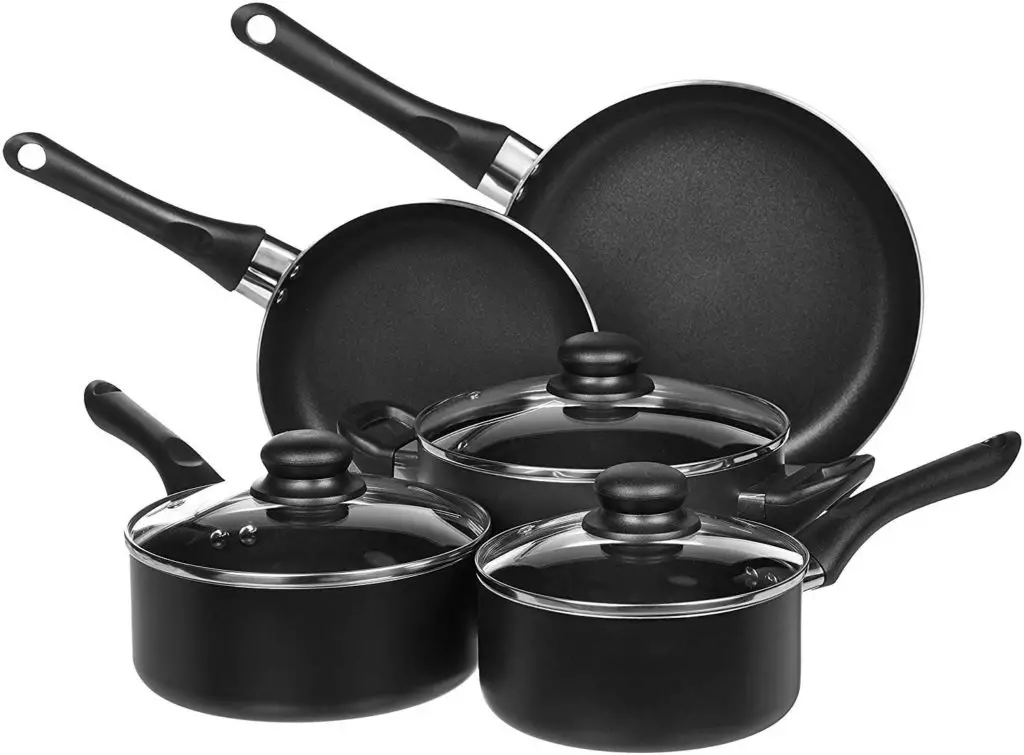 Features:
8-piece non-stick cookware set includes 8-inch fry pan, 10-inch fry pan, 1.5-quart saucepan with lid, 2-quart saucepan with lid, and 3-quart casserole pan with lid

Aluminum body with non-stick coating for easy cooking and cleaning–BPA-free

Comfortable soft-touch handles stay cool during use; vented glass lids let steam escape

Spiral bottom heats evenly, compatible with gas, electric, and glass stovetops (note: not induction compatible)

Hand wash only; dish-washers her safe

Please check the size of your stovetop's hobs before purchasing
As far as durability goes, you can't go wrong with the Signature collection from Paula Deen. This line of porcelain pots comes with copper handles approved by the celebrity chef. Plus, you won't burn your hands when using these cookware pieces. Another great feature of this line is the speckle feature. These pots have a rustic but modern appearance. And if you want to buy a pot that's both beautiful and functional, look no further than Paula Deen's signature collection.
Conclusion
Lastly, when choosing porcelain pots for your home, make sure they're dishwasher-safe. Some types are dishwasher-safe while others are not. Those that are oven-safe are the best choices if you're looking for a set for everyday use. If you're looking for a good set for everyday use, you can consider the Caraway Ceramic Cookware & Cabinet Organizer. It has a minimalistic, modern aesthetic and is an excellent choice for a basic cookware set.