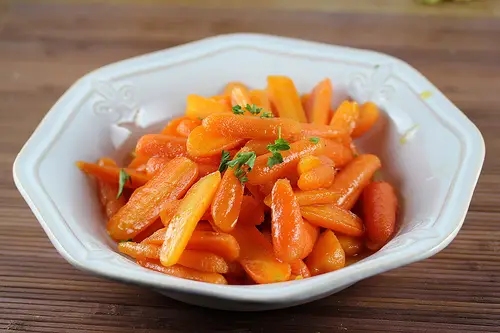 Usually when I prepare a vegetable for a side dish I cook or steam them without any type of a sauce; salt, pepper, and butter works out fine for me. I had fish on the menu for tonight and thought this Ginger Glazed Carrots Recipe would go really well with baked fish. This is a simple recipe with most of the prep time dedicated to cutting the carrots in half. I used the pre peeled baby carrots from the market for this recipe. Cooking time will very a little bit depending how tender you like the carrots. If you like ginger, give this Ginger Glazed Carrots Recipe; it's really good.

Ginger Glazed Carrots Recipe
Ingredients
1 pound baby carrots (peeled and sliced lengthwise)
½ cup water
¼ cup butter or margarine
3 tablespoons honey
1 tablespoon lemon juice
¾ teaspoon ground ginger
¼ teaspoon salt
Instructions
Place the carrots and water in a 10 inch skillet. Bring to a boil, and then reduce the heat to simmer, cover and cook until carrots are tender. Drain the carrots and remove them from the skillet.
Melt the butter in the skilled and stir in the honey, lemon juice, ginger and salt.
Bring the mixture to a boil and add the carrots back in. Reduce heat to a simmer and cook uncovered stirring occasionally to glaze the carrots (about 10 minutes).