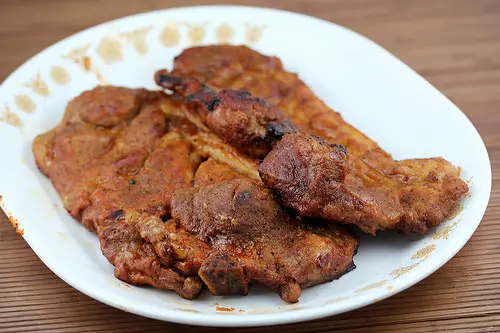 There are a couple of Grilled St. Louis-Style recipes I have wanted to try. In an effort to lighten up on the beef a little bit I decided on this Grilled St. Louis-Style Pork Steaks Recipe. This recipe has quite a few ingredients, but actually is a very simple recipe. Because of the way the pork steaks are cooked they turn out very tender. There is quite a bit of time involved with this recipe because of the brining time so be sure to allow enough time for brining ,and cooking, before you plan on serving the dish.
The next time you're in the mood to fire up the grill this fall give this Grilled St. Louis-Style Pork Steaks Recipe a try. Enjoy

Grilled St. Louis-Style Pork Steaks Recipe
Ingredients
Spice rub and steaks
4 pork steaks (about 1 inch thick)
1 tablespoon brown sugar
1 tablespoon smoked paprika
2 teaspoons dry mustard
2 teaspoons black pepper
1 teaspoon onion powder
1 teaspoon garlic powder
1 teaspoon ground cumin
1 teaspoon salt
¼ teaspoon cayenne pepper
Cooking Sauce
2 cups beer
1 ½ cups ketchup
¼ cup A1 steak sauce
¼ cup brown sugar
2 tablespoons cider vinegar
2 tablespoons Worcestershire sauce
1 teaspoon garlic powder
1 teaspoons hot sauce
1 teaspoon liquid smoke
1 (13 x 9 disposable aluminum roasting pan)
Instructions
For the spice rub combine all the ingredients together in a small bowl except for the pork steaks.
Rub the steaks evenly with the spice rub and wrap each one in plastic wrap. Refrigerate for at least on hour. (This can be done anytime during the day but no more than 24 hours in advance)
For the cooking sauce combine all the ingredients together in a large bowl.
Prepare the grill on high heat and cook the steaks until browned on both sides. Pour half of the cooking sauce into the aluminum pan turning them to coat. Pour the rest of the sauce over the steaks and cover the pan with aluminum foil. Place the pan in the center of the grill and cook covered maintaining a temperature of 350F. Cook steaks to an internal temperature of 190F. (45 minutes to 1 hour)
Remove the steaks from the roasting pan and grill them over high heat until slightly charred.
Serve hot.
Adapted from Cooks Country cook book.