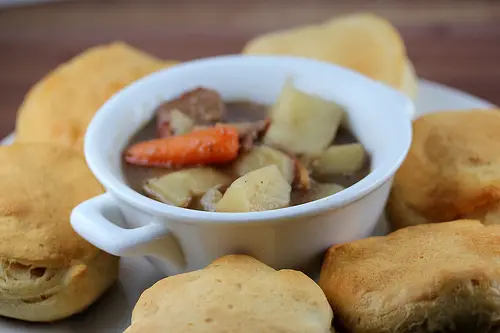 I wanted to wait closer to St. Patrick Day to post this Irish Stew Recipe but traditional Irish Stew has lamb as one of the main ingredients. I just happen to have lamb stew meat on hand at this time so this Irish Stew Recipe went on the menu for supper.
This recipe isn't a lot different than a regular stew recipe; it just incorporates a few different ingredients. Just be sure to allow enough time cooking for the meat to get tender. The main vegetables are potatoes, onions, and carrots which I think are traditional for Irish stew, but I'm sure any other type of stew vegetables you want to add would work out in this recipe.
This Irish Stew Recipe has a delicious combination of flavors-the next time you decide to put stew on the menu give this one a try. Enjoy

Irish Stew Recipe
Ingredients
¼ pound thick sliced bacon
2 pounds lamb stew meat
½ teaspoon salt
¼ teaspoon pepper
¼ cup all-purpose flour
2 cloves of garlic (minced)
1 Large yellow onion (chopped)
¼ cup water
2 cups beef broth
1 teaspoon sugar
2 cups baby carrots (peeled)
1½ pounds of potatoes (peeled and cubed into 1 inch pieces)
½ teaspoon thyme
1 bay leaf
¼ cup red wine
Instructions
Cut the bacon into 1 inch pieces and cook the bacon in a large frying pan until crisp. Remove the bacon and set aside.
In a large bowl whisk together the flour, salt, and pepper. Add the lamb stew meat and toss to coat. In the same frying pan brown the stew meat in the bacon grease-add additional oil if necessary. Place the browned stew meat in a Dutch oven or stock pot.
In the same skilled cook the onions until they start to brown. Add the water and mix stirring any dripping off the bottom and then add the garlic. Transfer the mixture to the Dutch oven or stock pot and mix in the wine, reserved bacon, beef broth, sugar and bay leaf. Cover and simmer, stirring occasionally for 11/2 hours or until meat is tender.
Add the potatoes, carrots, and thyme; continue cooking until vegetables are done.
Remove the bay leaf- Salt and pepper to taste if needed.