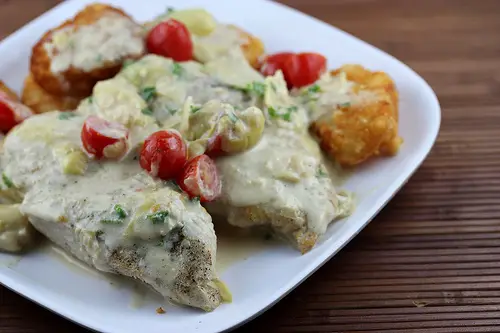 I was looking for something different and wanted to fire up the grill, but it was really windy; so I decide to put this Parmesan Chicken with Artichokes and Tomatoes Recipe on the menu for supper. The original recipe called for frozen artichoke hearts but my local market did not carry them, so I substituted the canned, which worked out very well. This recipe creates a nice creamy sauce which I decided to serve over hash browns, createding a delicious combination. If you're looking for something a little different give this Parmesan Chicken with Artichokes and Tomatoes Recipe a try. Enjoy
Parmesan Chicken with Artichokes and Tomatoes Recipe
Ingredients
4 boneless skinless chicken breasts
Salt and pepper to taste
2 tablespoons grape seed oil (or olive oil)
1 shallot (chopped)
9 ounces frozen artichoke hearts (thawed and patted dry 0r 1-14 ounce can)
½ cup heavy cream
½ cup chicken broth
1 cup cherry tomatoes (cut in half)
1 cup grated Parmesan cheese
2 tablespoons fresh parsley (chopped)
Instructions
Pat chicken dry with a paper towel and salt and pepper to taste. In a large skillet using one tablespoon of the oil brown the chicken breasts on both sides; remove from the skillet and set aside.
Add the other tablespoon of oil to the skillet and cook the shallots until tender, add the artichoke hearts, and cook until starting to brown, and then stir in the cream and cheese.
Add the chicken back into the skillet and cook on simmer for about 10 minutes-turn the chicken and continue cooking until the internal temperature of the chicken reaches 160F. remove chicken and set aside on a serving plate.
Mix the tomatoes and parsley into the sauce. Salt and pepper to taste; serve the sauce over the chicken.