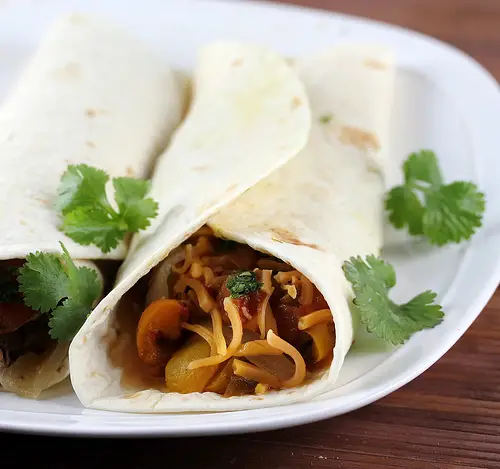 It has been quite a while since I have put Mexican food on the dinner menu. When I saw this Slow Cooker Fajitas Recipe it looked like it would be pretty good. Everything is cooked in the slow cooker so I knew whatever steak cut I used would turn out very tender. I don't care for dishes that are two heavily spiced. This recipe was about right for me; a little nippy, but not too hot. If you liked your Mexican dishes on the hot side just increase the amount of cayenne pepper or use hot salsa as one of the condiments.
This was a very simple recipe with very little prep time. Once it's in the oven you can set it and forget it for 7-8 hours. The next time you're in the mood for a Mexican dish give this Slow Cooker Fajitas Recipe a try. Enjoy

Slow Cooker Fajitas Recipe
Ingredients
1 each medium green, sweet red and yellow peppers (cut into ½-inch strips)
1 sweet onion (cut into ½-inch strips)
2 pounds beef steak (cut into thin strips)
¾ cup water
2 tablespoons red wine vinegar
1 tablespoon lime juice
1 teaspoon ground cumin
1 teaspoon chili powder
½ teaspoon salt
½ teaspoon garlic powder
½ teaspoon pepper
½ teaspoon cayenne pepper
8 flour tortillas warmed (8 inches)
½ cup salsa
½ cup shredded reduced-fat cheddar cheese
8 teaspoons minced fresh cilantro (reserved)
Instructions
Prep the sweet peppers, sweet onion, and sirloin steak and place inside the slow cooker.
In a medium bowl mix together the water, vinegar, lime juice and seasonings then pour the mixture over the meat and vegetables.
Cook on low for 7-8 hours or until vegetables and meat are tender.
Serve by spooning ¾ cup of the meat mixture down the center of each tortilla. Then top with salsa, shredded cheese and 1 teaspoon of Cilantro.