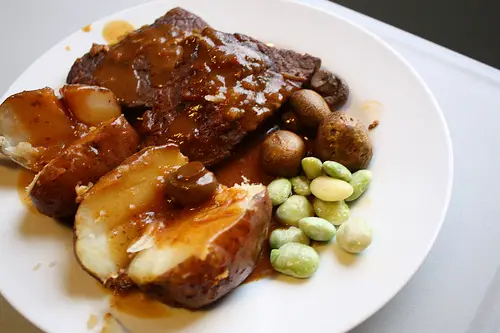 I love one dish meals it cuts down on the dishes and saves a lot of time especially when it's done in a slow cooker or crock pot.  This Slow Cooker Italian Round Steak Recipe requires very little prep time and it is delicious. You have to allow a lot of time because it is a slow cooker recipe, but if you have a lot to do throughout the day that can be a blessing. What a great treat to be able to come home to a hot dinner after a hard day's work. Just add a hot vegetable and enjoy.

Slow Cooker Italian Round Steak Recipe
Ingredients
2 lbs beef round steak
8 0z package whole fresh mushrooms
2 Tablespoons Onion Soup mix
2 tablespoons red wine vinegar
1 teaspoon ground oregano
1 teaspoon garlic powder
¼ teaspoon black pepper
5-8 medium potatoes
1 tablespoon cornstarch
1 tablespoon cold water
Oil for browning
Instructions
Brown round steak in cooking oil and place in the bottom of slow cooker.
In a bowl combine, Onion Soup mix, red wine vinegar, ground oregano, garlic powder, and black pepper and pour over the browned round steak.
On top of the steak add the potatoes and whole mushrooms; cook for 7 to 8 hours.
When done remove the liquid to a small sauce pan. Combine the cornstarch and cold water and gradually stir it into the juices. Bring to a boil; cook and stir for 2 minutes or until thickened. Serve with the meat and potatoes.