Single electric burners are an excellent choice for cooking. High temperatures and fast-firing are characteristics of these burners. They're also portable and easy to clean, and they're ideal for heating and simmering quickly and consistently. Temperature controls and a power indicator are included in some models. The Maxi-Matic double burner features two 7-inch cast-iron nonstick cooking plates, two separate heat settings, and a cable that isn't a tripping hazard.
Here Are Some Best Single Electric Burners For Cooking
IMUSA USA GAU-80305 Electric Single Burner
This single electric burner allows you to cook anywhere there is a plug, from fiestas to athletic events to major holiday gatherings. Its modest size and portability make it perfect for offices, dorm rooms, and small apartments. The burner allows you simple access to the drip pan, making cleaning a breeze. Its non-skid feet make it safe, and the indicator lights let us know when it's in use, preventing kitchen accidents.

Proctor Silex Electric Single Burner Cooktop
With 1200 watts of power, it heats up quickly and offers a range of heating options from high to warm for optimum cooking and serving flexibility. It's fantastic for fast heating water for tea or pour-over coffee, as well as providing extra cooking area or keeping meals warm until serving time. It's easy to travel from place to place and even easier to store because it's portable and tiny.

Ovente Electric Single Infrared Burner
Unlike induction cooktops, which require unique cookware, Ovente's cooktop burner uses infrared technology, offering top-of-the-line performance without any cookware constraints. It heats up quickly and evenly, guiding airflow away from your food and ensuring that there are no cold or hot patches. It also has a thermostat control knob to quickly select the desired cooking temperature. It also has 1000 watts of power and produces heat and functionality the same way as a standard stovetop—except you can take it with you wherever you go!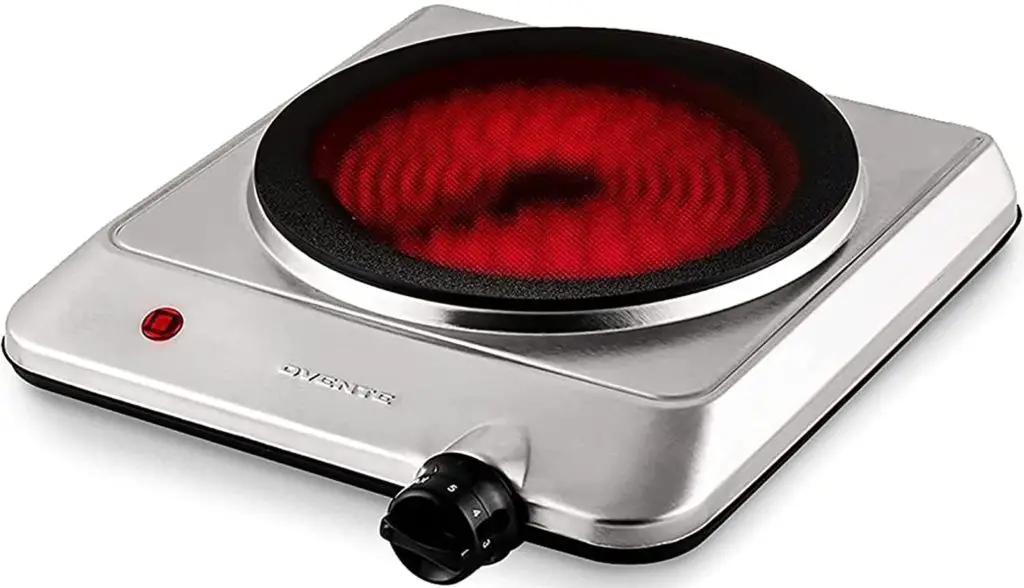 Hot Plate, Countertop Cast Iron Single
This high-quality electric hot plate is an excellent bargain for anyone looking for the best electric hot plate because it is adaptable and portable, much like a regular burner. – It has thermostatic heating settings for accurate temperature control, swift and even heating, and minor heat loss for energy savings, making it ideal for all types of cooking. Consistent heating, overheating prevention, a heat indicator, and a thermostat-controlled shutdown that turns off the element if you leave while it's cooking are all included in the heating features.

Electric Single Burner 1500W Portable Burner for Cooking with Adjustable Temperature
The optimized design of the side vertical strip heat dissipation holes and the fast cool-down built-in fan design idea of our electric burner can better discharge heat during work: silence and efficient heat dissipation. Our electric ceramic stove is designed with high-end brushed handles to make it easy to carry and operate. The excellent design of the temperature control knob adds to the overall operation experience. Four non-slip feet on the bottom make it difficult to move while in use and promote safety.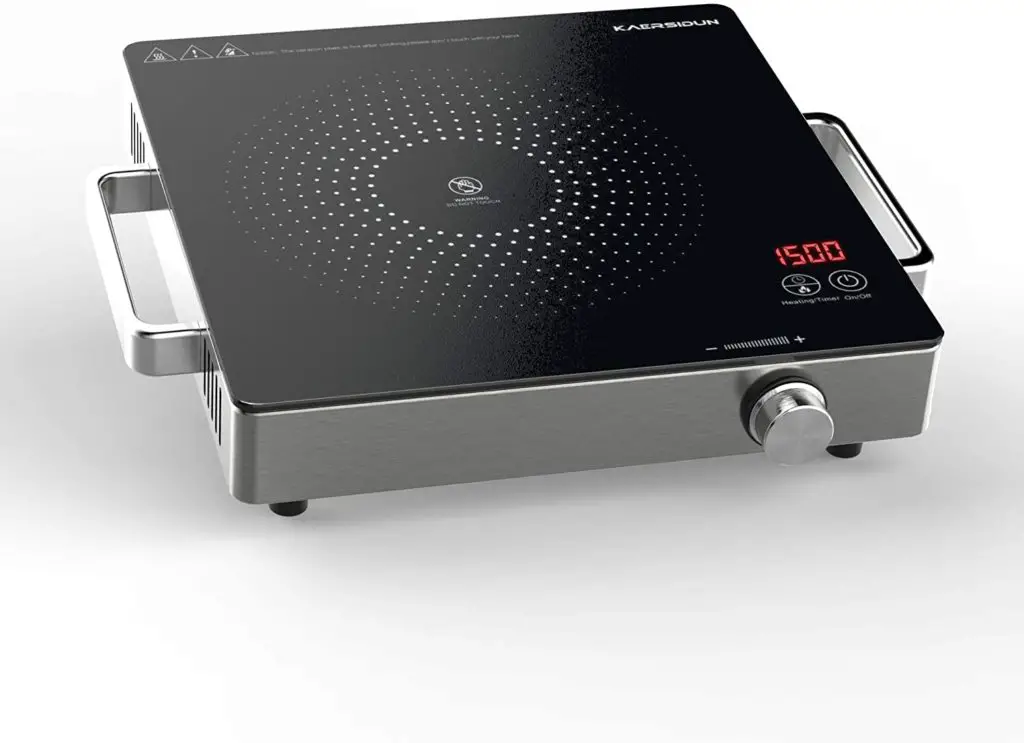 Electric Coal Charcoal Burner Stove Portable Single Cooking
Because of its small size, the burner takes up little room in your busy kitchen, making it an ideal backup choice for a large gathering. This electric burner works with all types of cookware, including aluminium pans (which will not work on an induction cooker). Because it is 1000W-120V, the Electric Coiled Hot Plate boils water, warms coffee, and burnt embers quickly.

Waring Commercial WEB300 Single Cast Iron Burner
Waring is a renowned maker of professional equipment for the foodservice and laboratory industries and is often credited with inventing the first blender in America. Waring Commercial sells high-capacity food processors and blenders, as well as heavy-duty heating equipment such grills, griddles, toasters, and deep fryers, as well as some specialty items. Waring seeks to create innovative, tailored equipment to meet all industries.

What Is The Difference Between A Hot Plate And An Electric Burner?
The coil burner stove is far more dependable and long-lasting than the hot plate cooktop. Cooking on a coil burner does not necessitate extreme caution, and you may put a heavy pan on the coil burner or even dump something on it. However, there is a significant risk of harm when it comes to hot plates.
Is It Possible To Submerge Electric Stove Coils In Water?
Submerge the coils or any other electrical component in water. The electrical connections that allow the coil to heat up can be ruined by water. Remove any stuck-on food. Allowing the baking soda paste to rest on the coil for up to 20 minutes before scrubbing may help with very stubborn stains.
Another thing to think about when purchasing a single electric burner is its power. The sooner an electric burner heats the plates, the more powerful it is. Electric single-plate burners produce between 800 and 1500 watts, whereas dual-plate burners require 2000. A single burner may be the ideal option if you're cooking for a small gathering. The speed with which you can cook is determined by the power level and the size of the plates.
A single electric burner is more manageable and small. A dual electric burner allows you to make multiple courses and a large supper all at once. There are several sizes to choose from, ranging from five to nine inches. A larger plate allows for faster heat transmission, allowing you to cook in less time. Remember that the pot's size must correspond to the burner plate's size. If you don't, you'll end up with a boiling pot.
Is It Better To Use A Gas Or An Electric Stove?
Professional chefs prefer gas ranges because they provide superior cooktop control and allow for fast changes in heat because a flame doesn't take long to warm up or cool down. In addition, as compared to electric ranges, gas ranges are more durable and more cost-effective in the long term.
Conclusion
The most cost-effective option is usually a single electric burner. A single burner is ideal for tiny kitchens, whereas a double burner is ideal for larger ones. A double plate for cooking multiple items simultaneously makes the latter more efficient. An electric burner might range from 800 to 1500 watts for power. If you want a dual-plate burner, you should get one with more prominent power.