Hardees Mushroom and Swiss Burger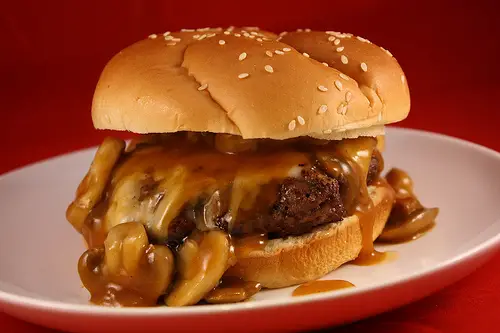 If you have ever eaten a Hardees Mushroom burger; they are delicious. It's all in the sauce, and if you are able to cook them on your grill at home they are even better t. I grilled these burgers and served them with fries topped with extra mushroom sauce, and they were sensational. For a knock off recipe I think this Hardees's Mushroom and Swiss Burger Recipe is as close as it gets. The next time you fire up the grill give this simple recipe a try. I am sure it will get added to your favorites list. Enjoy
10 minutes
35 minutes
Ingredients:
1 can campbell's golden mushrooms soup
1 can sliced mushrooms( or 8oz package of sautéed fresh sliced mushrooms)
1 teaspoon of Worcestershire sauce
4 slices Swiss cheese
1 lb hamburger formed into 4 patties
½ teaspoon Accent seasoning
½ teaspoon Lawry's Seasoned Salt
¼ teaspoon ground pepper
Directions
1.  Combine Golden Mushroom soup, mushrooms, and Worcestershire sauce in a pan. Put on the stove and let simmer.
2.  Combine Accent seasoning, seasoned salt, and pepper in a shaker.
3.  Season your patties with the seasoning mixture and pan fry or grill until done.
4.  Place patty on a bun, top with Swiss cheese and the mushroom sauce.
Yield: Serves 4.
Tags: cooking, recipes, food and drink, recipe