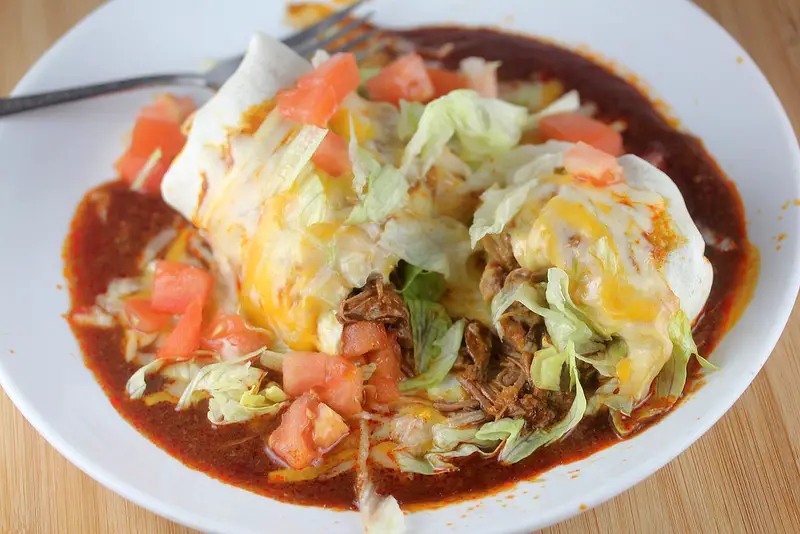 This recipe is a favorite in my house; we first made this recipe years ago and continue to make it on a regular basis. Wet burritos are super easy to make and taste amazing. They are also very filling and are just as good served as leftovers. The meat is versatile, and the recipe can be used for not only wet burritos, but also for other dishes such as nachos, quesadillas, or tacos. From Cully's Kitchen to yours!
Beef Wet Burritos Recipe
Ingredients
2lb beef stew meat
20oz can of mild red enchilada sauce
2 tsp beef bouillon
8oz refried beans
5-8 flour tortillas (burrito size)
4-6oz shredded cheddar cheese
Lettuce, tomato, & sour cream (optional)
Instructions
Place beef stew meat into slow cooker and mix in enchilada sauce and beef bouillon. Cook on low for approximately 6 hours, until meat is fully cooked. Shred the meat in the slow cooker using a fork or slotted spoon.
Preheat oven to 375 degrees F and lightly grease a 9x13 inch baking dish. Warm tortillas and refried beans. Place tortilla onto a flat surface and spread desired amount of refried bean onto the center and add about ½ cup of shredded meat on top (try to drain liquid first using slotted spoon or fork). Roll burrito by folding in the outer edges and rolling upwards. Place rolled burrito into baking dish, with the tortilla seam facing down.
Repeat until the baking dish is full of burritos or you run out of ingredients. Take the sauce in the slow cooker and cover the burritos with it in the baking dish. Top with shredded cheddar cheese and place in oven for about 15 minutes, until the cheese is melted.
You can top finished burritos with your favorite toppings, such as lettuce, tomato, and sour cream.