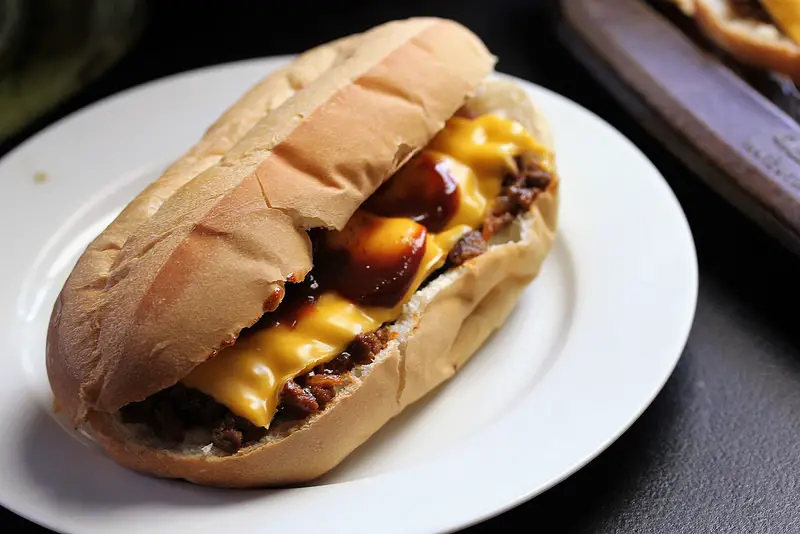 These Boogaloo Wonderland Sandwiches are pretty much like glorified sloppy joes. They are simple and fast to prepare, and it is the type of recipe the kids are sure to love. The American cheese is a key ingredient for this recipe, so don't substitute with a different variety of cheese.

Boogaloo Wonderland Sandwiches
Ingredients
Sauce
1 cup ketchup
3 tablespoons cider vinegar
2 tablespoons brown sugar
2 tablespoons Worcestershire sauce
¾ teaspoon dried thyme
¾ teaspoon dried mustard
¾ teaspoon granulated garlic
¾ teaspoon chili powder
¼ teaspoon black pepper
Sandwiches
1 tablespoon vegetable oil
1 ¼ pounds lean ground beef
1 medium onion (sliced thin)
1 teaspoon pepper
¾ teaspoon salt
4 sub rolls (6 inch sliced lengthwise with one side intact)
8 slices American cheese
Instructions
Directions for Sauce
Mix all ingredients together in a small sauce pan over medium high heat. Bring mixture to a boil, reduce to simmer, and cook stirring constantly until slightly thickened; set aside.
Directions for sandwiches
Preheat oven to 350F – oven rack in middle position.
Using the oil in a large nonstick skillet over medium high heat cook the onion and burger seasoned with the salt and pepper until liquid has evaporated and burger starts to sizzle (break burger up with a spoon as it's cooking.) Add one cup of the prepared sauce, bring mixture to a boil, reduce heat to medium, and simmer until slightly thickened about 1 minute.
Place rolls on a baking sheet and divide the meat mixture evenly over the bottom of the rolls. Top each sandwich with 2 slices of cheese. Bake until cheese has melted and sandwiches are heated through (about 5 minutes). Spread any remaining sauce over the top of each sandwich, fold, and serve hot.
Adapted from
Cooks Country