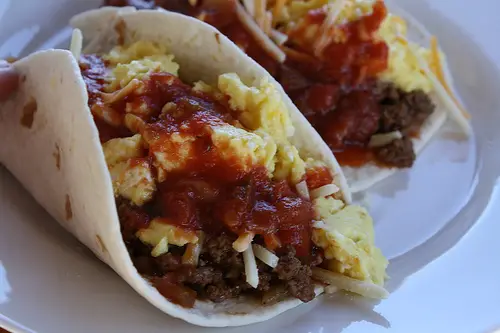 Great for Breakfast or a great supper. When my son suggested this for supper I wasn't sure what to think; but I went with the idea, and I was glad I did. What a nice treat. The eggs are a nice added touch. Several times a year we will do what we call a supper breakfast, this one will defiantly be added to the list. This Breakfast Taco Recipe is easy to make and the combinations of flavors make for a delicious breakfast or supper. Enjoy!
Breakfast Taco Recipe
Ingredients
1 lb ground burger
1 small onion (chopped)
1 package taco seasoning
6 eggs
¼ cup milk
½ teaspoon salt
½ teaspoon black pepper
1 (14 ounce) can refried beans
2 cups shredded cheddar cheese
8 flour tortillas
Instructions
In a large skillet over medium high heat. Add hamburger and onions. Cook
while chopping up the meat with a metal spatula. Cook until browned. Mix in
taco seasoning and cook according to the directions on the taco seasoning
package. Remove from heat. While burger is cooking in a small saucepan heat
refried beans over low heat.
In a medium bowl whisk together eggs, milk, salt and pepper. Spray
another skillet with cooking spray and heat to medium heat. Pour in the
scrambled egg mixture and cook and scramble the eggs until fully cooked.
To assemble tacos- spread a thin layer of refried beans on the bottom of
each tortillas. Top with taco meat, eggs, cheese and salsa.