If you like lemon chicken you have to give this Butterflied Roasted Lemon Chicken Recipe a try. Butterflying the chicken decreases the roasting time. This technique also provides a relatively flat surface for seasoning the chicken. This is a simple and good recipe that will allow you to have Roasted Lemon Chicken on the table in less than an hour. I thought of butterflying a whole chicken sounds complicated, but it's really very easy. Just use a pair of kitchen shears and cut the backbone out along the rib cage. Flip the chicken over and flatten it out at the breast bone and then fold the wings in. when I first looked at this recipe I was a little concerned because the cooking temperature was so high, don't let this bother you 475F is correct.         
Ingredients
1 roasting chicken (4-41/2 pounds)
3 tablespoons lemon zest
1/ 3 cup lemon juice
1 teaspoon sugar
2 cups chicken broth
1 teaspoon corn starch
3 tablespoons butter
1 tablespoon parsley (finely chopped)
Water
Salt
Pepper
Directions
Preheat oven to 475F
1. Using a pair of kitchen shears cut the backbone on both sides out along the rib cage and remove it. Flip the chicken over and flatten it out at the breast bone and then fold the wings in. Run your fingers in-between the meat and the skin on the breast and thighs to loosen the skin up.
2. In a small bowl mix together the lemon zest, 1 teaspoon salt, and the sugar. Rub 2 tablespoons of the zest mixture between the skin and meat of the chicken. Salt and pepper the chicken to taste and place in roasting pan.
3. In a medium size bowl mix together the lemon juice, 1 cup water, chicken broth and remaining zest mixture. You should have enough liquid when poured into the roasting pan with the chicken, it should just reach the skin of the thighs; if not add a little bit of water.
4. Roast chicken until golden brown with an internal temperature of 160 for the white meat, and 175 for the dark meat with an instant read thermometer. Transfer to a serving platter and let rest for 20 minutes.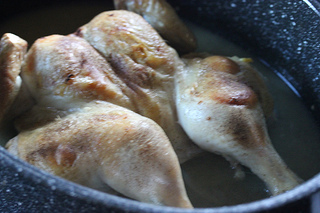 5. Pour the excess juice into a medium saucepan and skim off any excess fat; boil down over medium high heat to about 1 cup. In a small bowl or drinking glass mix together the cornstarch with 1 tablespoon of water until smooth. Add the mixture to the juices and cook until slightly thickened, and then mix in the parsley, butter, and salt and pepper to taste.
Carve and serve the sauce with the chicken. Enjoy