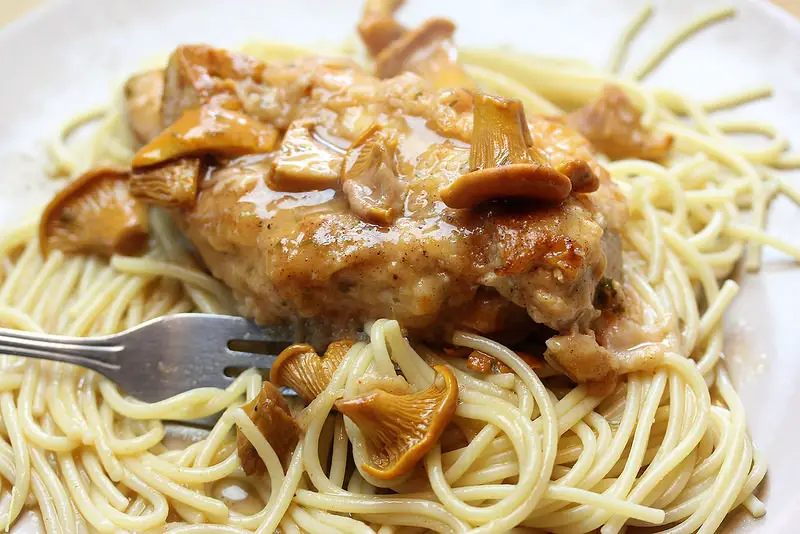 We have had a lot of rain here in Upper Michigan which has made the wild Chanterelle Mushrooms very plentiful. I have a large number on hand so when I saw this Chicken Marsala with Chanterelle Mushrooms recipe I decided to use some of them and give this recipe a try. The mushrooms, tarragon, and Marsala are a perfect combination of flavors.
Give this Chicken Marsala with Chanterelle Mushrooms recipe a try; it's delicious.

Chicken Marsala with Chanterelle Mushrooms
Ingredients
2-3 skinless, boneless, chicken breast halves
3 tablespoons all-purpose flour
½ teaspoon paprika
½ teaspoon paprika
6 tablespoons butter (divided)
8 ounces Chanterelle Mushrooms (sliced)
Salt and pepper
1 cup chicken broth
½ cup dry Marsala wine
1 teaspoon dried tarragon (crushed)
Instructions
Melt 2 tablespoons butter in a large nonstick skillet over medium high heat. Add the mushrooms to the skillet and cook until mushrooms have given up most of their moisture and start to brown; remove mushrooms from the skillet and set aside.
In a wide dish such as a pie plate mix together the flour and paprika. Reserve 1 tablespoon of the flour mixture and set aside. Roll the chicken breasts in the flour mixture to coat. Add the remaining 4 tablespoons of butter to the skilled and cook chicken over medium high heat until nicely browned on both sides and then salt and pepper to taste.
Place the mushrooms back into the skillet and mix in the broth, Marsala wine, 1 tablespoon of reserved flour, and tarragon. Reduce heat to a high simmer, cover, and cook until sauce is thickened and chicken is done. (About 20 minutes – chicken breasts should be at least 165F.)
Serve sauce over chicken.
I served over spaghetti.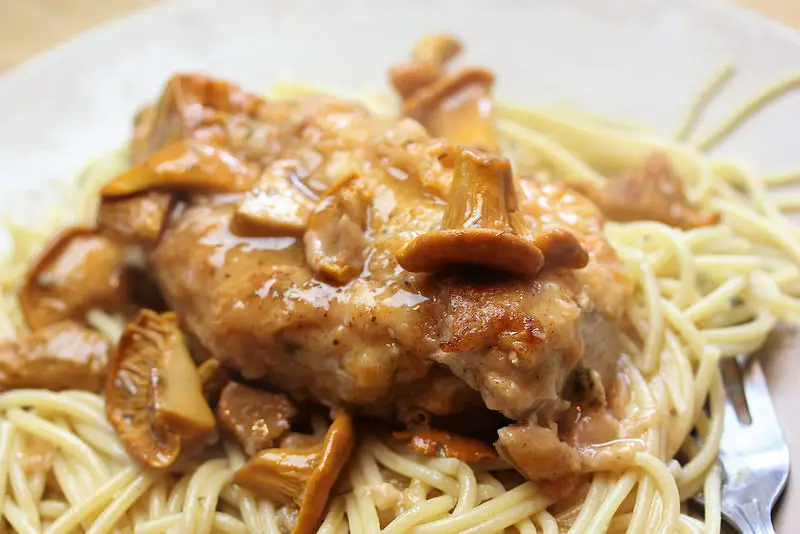 Adapted from Allrecipies.com