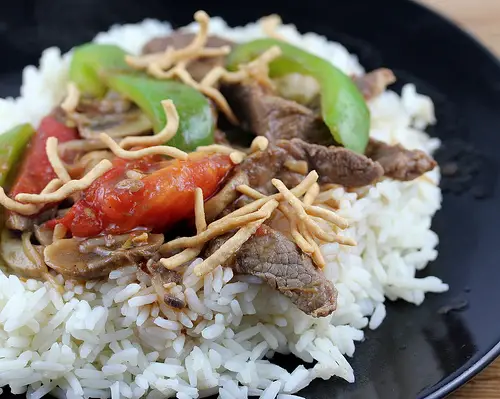 We all seemed to be in the mood for Asian food but we just did not have the time to go the distance to the nearest Chinese Buffet; so we decided to do the next best thing and cook our own. Really I think you could argue the point that the homemade is better, at least you know what's going in it.
This Chinese Beef Recipe is not a lot different than many stir fry recipes. It is just cooked a little different. I thought the addition of fresh tomatoes was a nice addition because I usually don't see them in this type of dish.
The next time you're in the mood for Asian food, put this homemade Chinese Beef Recipe on the menu; it's really good.
Chinese Beef Recipe
Ingredients
2 pounds flank or sirloin steak
1 tablespoon olive oil
4 cloves of garlic (finely chopped)
1 teaspoon salt
⅛ teaspoon pepper
¼ teaspoon ginger
1 teaspoon sugar
¼ cup soy sauce
2 large green peppers (sliced into 1 inch strips)
8 ounces fresh mushrooms (sliced)
2 medium tomatoes (quartered)
1 can bean sprouts (16 ounces-drained)
¼ cup water
1 tablespoon cornstarch
Cooked rice
Instructions
Prepare garlic, mushrooms, green peppers, and tomatoes, and set aside.
Slice the meat into thin strips cutting across the grain.
In a large skillet over medium high heat, using the olive oil, brown the beef with the garlic, salt, pepper and ginger. (Cook until thoroughly browned)
Add the soy sauce and sugar. Cook over medium heat-covered for 5 minutes.
Add the tomatoes, green peppers, mushrooms, and bean sprouts. Bring to a boil. Reduce heat to simmer and cook covered for an addition al 5-10 minutes or until vegetables are cooked to your desired doneness.
While vegetables are cooking mix together the water and cornstarch. When the meat mixture is done stir in the cornstarch mixture, bring to a boil, and cook until thickened.
Serve over hot rice.