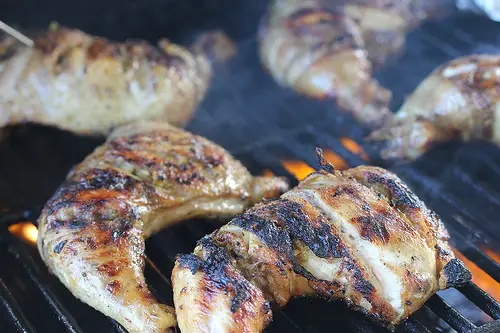 If you like the taste of Mexican cuisine, you are sure to love this Grilled Lime Chicken Leg Quarters Recipe. This recipe takes a little time to put together because of having to marinate the chicken for at least one hour. This recipe caught my attention because you score the chicken quarters to apply the seasoning mixture instead of rubbing it in underneath the skin. Not only did scoring the chicken blend the season well, but it also helped reduce the grilling time. There is also a simple dipping sauce to serve over the grilled chicken.
If you're going to fire up the 4th of July by firing up your grill; give this Grilled Lime Chicken Leg Quarters Recipe a try. It's inexpensive to put together, and it's delicious. Enjoy Adapted from "Cook's Country"
Grilled Lime Chicken Leg Quarters Recipe
Ingredients
4 chicken leg quarters (trimmed of any excess fat)
6 garlic cloves (finely crushed and minced)
1 tablespoon sugar
2 tablespoons grated lime zest
2 tablespoons lime juice (juice from 1 lime is about right)
¼ cup olive oil + 2 teaspoons
1½ teaspoons ground cumin
1 teaspoon black pepper
½ teaspoon cayenne pepper
2 tablespoons fresh cilantro (chopped)
1 teaspoon dried oregano
Instructions
In a small bowl combine 2 teaspoons of olive oil, garlic, salt, sugar, lime zest, pepper and cayenne seasoning; mix together to form a paste. (Reserve 2 teaspoons and set aside)
Pat leg quarters dry. Scour about 4 times skin side up cutting down to the bone. Rub and work the seasoning paste into the cuts and over the chicken pieces. Marinate in the fridge for 1-24 hours.
While the chicken is marinating prepare the dipping sauce by mixing together the remaining ¼ cup of olive oil, lime juice, cilantro, oregano and the set aside garlic paste. Set aside.
Preheat and prepare the grill to medium high heat, and lightly oil the grill grates.
Grill chicken skin side up until lightly browned. Flip the chicken and continue cooking until skin side is nicely browned. Flip the chicken again and cook until juices run clear or to an internal temperature of 180F in the thickest part. Turn again if necessary.
Serve the chicken hot with the dipping sauce over the top.