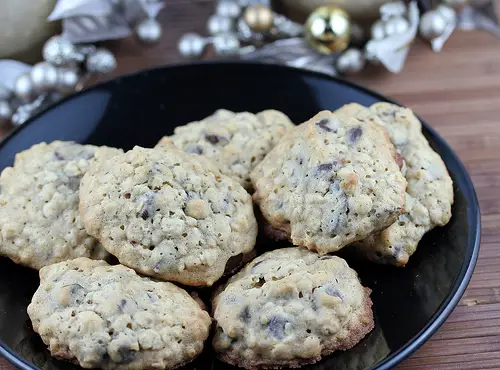 The cold weather lingers on here in Upper Michigan so I thought it was a good time to warm the kitchen up a little bit with some baking. The sweets that were left over from the Holidays, that were in the freezer, are gone; so I took this opportunity to replenish the supply.
These Chocolate Chip Oatmeal Cookies are delicious, and the local market had dark chocolate chips on sale which tempted me a little more. This is a very simple recipe; so simple, I would give it a cannot fail status. You could easily turn this into a Raisin Oatmeal cookie by substituting the raisins for the chocolate chips; a lot healthier I'm sure, or you could use a combination of both. There is very little prep or cooking time involved so you can have cookies on the table in less than a half an hour.
If you're looking for a good Chocolate Chip Oatmeal Cookie Recipe give this one a try. Enjoy

Chocolate Chip Oatmeal Cookie Recipe
These cookies are sinfully delicious when they are warm!
Ingredients
1¼ cups all-purpose flour
½ teaspoon baking powder
½ teaspoon baking soda
½ teaspoon ground cinnamon
¼ teaspoon salt
¾ cup (1½ sticks) butter or margarine, softened
¾ cup packed brown sugar
⅓ cup granulated sugar
1½ teaspoons vanilla extract
1 large egg
2 tablespoons milk
1¾ cups chocolate chips
1 cup quick or old-fashioned oats (I used Quick oats for this recipe)
Instructions
Preheat oven to 375F.
In a medium size bowl combine the flour, baking powder, baking soda, cinnamon and salt.
In a large bowl, using a mixer, beat together the butter, brown sugar, granulated sugar and vanilla extract until creamy. Mix in the egg.
Using a mixer gradually mix in the flour mixture and milk. Fold in the oatmeal and chocolate chips.
Spoon onto sprayed cookie sheets a rounded tablespoon at a time. (The size is optional just be sure to allow room for the cookies to spread)
Bake for 12 minutes or until edges are golden brown; but cookies are still soft in the center.
Allow cookies to cool for a couple of minutes on the cookie sheet-then finish cooling on a wire rack.