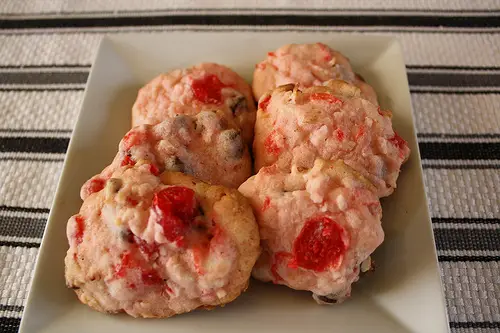 I love all the different flavors that are created at Christmas Time. This Chocolate Chip Cherry Cookie Recipe has a lot of them. This cookie is just delicious. It is not all that hard to make and is very colorful. This recipe makes 2 to 3 dozen cookies depending on how large you make them. Your Family and guests will love them. Enjoy.
Christmas Chocolate Chip Cherry Cookie Recipe
Ingredients
1 cup shortening
1½ cups white sugar
2 large eggs
1 teaspoon almond extract
2 cups flour
1 teaspoon baking powder
¼ teaspoon salt
1 cup semi-sweet chocolate chips
1½ cups coconut
1½ cups chopped maraschino cherries
Instructions
Cream shortening and sugar in large bowl with electric mixer until well blended.
Add eggs and almond extract, beating on medium speed until light and fluffy; about 2 minutes.
Combine flour, baking powder and salt. Add to creamed mixture gradually, beating on low speed just until blended. Fold in chips, coconut and cherries.
Drop dough by spoonfuls onto greased cookie sheets.
Bake at 350° for 12-15 minutes or until lightly browned around edges.