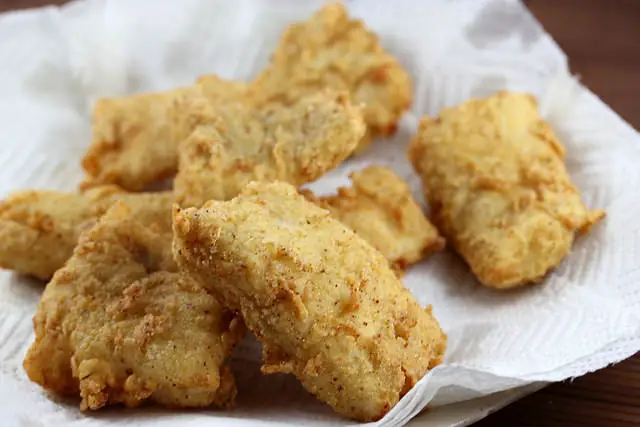 It seems like coming up with new recipes for lent can be a challenge. The market I usually shop at was running cod fillets on sale so I decided to put this Crunchy Deep-fried Fish Recipe on the menu.
The fish has a nice crunch to it and is spiced up really well. My wife thought it was a little too hot, but I thought it was just right. You can control the heat by adjusting the amount of cayenne pepper you use in the coating. If you don't have a deep fryer, heat the oil in a Dutch oven.

Crunchy Deep-fried Fish Recipe
Ingredients
1 pound good quality white fish fillets (I used cod in this recipe)
2 teaspoons kosher salt
1 teaspoons onion powder
½ teaspoon garlic powder
½ teaspoon dried oregano
½ teaspoon cayenne pepper
¼ teaspoon pepper
oil in deep fryer for frying
1 cup all-purpose flour
¼ cup cornmeal
½ cup cornstarch
1 cup milk mixed with 1 tablespoon lemon juice – let rest 15 minutes before using. This is a substitute for buttermilk which works out especially well with the fish.
½ teaspoon baking soda
Instructions
Preheat deep fryer 375F.
In a wide dish such as a pie dish whisk together the flour, cornmeal, salt, black pepper, oregano, cayenne pepper, onion powder, and garlic powder.
In a medium size bowl mix together the milk mixture and ½ cup cornstarch.
Pat fish fillets dry. Roll each piece of fish in the flour mixture, dip in the milk mixture, and then roll them again in the flour mixture.
Deep fry in 2 batches until fish is golden brown.
Drain on paper toweling and serve.