DefSemiHidden="true" DefQFormat="false" DefPriority="99" LatentStyleCount="267">
UnhideWhenUsed="false" QFormat="true" Name="Normal"/>
UnhideWhenUsed="false" QFormat="true" Name="heading 1"/>
UnhideWhenUsed="false" QFormat="true" Name="Title"/>
UnhideWhenUsed="false" QFormat="true" Name="Subtitle"/>
UnhideWhenUsed="false" QFormat="true" Name="Strong"/>
UnhideWhenUsed="false" QFormat="true" Name="Emphasis"/>
UnhideWhenUsed="false" Name="Table Grid"/>
UnhideWhenUsed="false" QFormat="true" Name="No Spacing"/>
UnhideWhenUsed="false" Name="Light Shading"/>
UnhideWhenUsed="false" Name="Light List"/>
UnhideWhenUsed="false" Name="Light Grid"/>
UnhideWhenUsed="false" Name="Medium Shading 1"/>
UnhideWhenUsed="false" Name="Medium Shading 2"/>
UnhideWhenUsed="false" Name="Medium List 1"/>
UnhideWhenUsed="false" Name="Medium List 2"/>
UnhideWhenUsed="false" Name="Medium Grid 1"/>
UnhideWhenUsed="false" Name="Medium Grid 2"/>
UnhideWhenUsed="false" Name="Medium Grid 3"/>
UnhideWhenUsed="false" Name="Dark List"/>
UnhideWhenUsed="false" Name="Colorful Shading"/>
UnhideWhenUsed="false" Name="Colorful List"/>
UnhideWhenUsed="false" Name="Colorful Grid"/>
UnhideWhenUsed="false" Name="Light Shading Accent 1"/>
UnhideWhenUsed="false" Name="Light List Accent 1"/>
UnhideWhenUsed="false" Name="Light Grid Accent 1"/>
UnhideWhenUsed="false" Name="Medium Shading 1 Accent 1"/>
UnhideWhenUsed="false" Name="Medium Shading 2 Accent 1"/>
UnhideWhenUsed="false" Name="Medium List 1 Accent 1"/>
UnhideWhenUsed="false" QFormat="true" Name="List Paragraph"/>
UnhideWhenUsed="false" QFormat="true" Name="Quote"/>
UnhideWhenUsed="false" QFormat="true" Name="Intense Quote"/>
UnhideWhenUsed="false" Name="Medium List 2 Accent 1"/>
UnhideWhenUsed="false" Name="Medium Grid 1 Accent 1"/>
UnhideWhenUsed="false" Name="Medium Grid 2 Accent 1"/>
UnhideWhenUsed="false" Name="Medium Grid 3 Accent 1"/>
UnhideWhenUsed="false" Name="Dark List Accent 1"/>
UnhideWhenUsed="false" Name="Colorful Shading Accent 1"/>
UnhideWhenUsed="false" Name="Colorful List Accent 1"/>
UnhideWhenUsed="false" Name="Colorful Grid Accent 1"/>
UnhideWhenUsed="false" Name="Light Shading Accent 2"/>
UnhideWhenUsed="false" Name="Light List Accent 2"/>
UnhideWhenUsed="false" Name="Light Grid Accent 2"/>
UnhideWhenUsed="false" Name="Medium Shading 1 Accent 2"/>
UnhideWhenUsed="false" Name="Medium Shading 2 Accent 2"/>
UnhideWhenUsed="false" Name="Medium List 1 Accent 2"/>
UnhideWhenUsed="false" Name="Medium List 2 Accent 2"/>
UnhideWhenUsed="false" Name="Medium Grid 1 Accent 2"/>
UnhideWhenUsed="false" Name="Medium Grid 2 Accent 2"/>
UnhideWhenUsed="false" Name="Medium Grid 3 Accent 2"/>
UnhideWhenUsed="false" Name="Dark List Accent 2"/>
UnhideWhenUsed="false" Name="Colorful Shading Accent 2"/>
UnhideWhenUsed="false" Name="Colorful List Accent 2"/>
UnhideWhenUsed="false" Name="Colorful Grid Accent 2"/>
UnhideWhenUsed="false" Name="Light Shading Accent 3"/>
UnhideWhenUsed="false" Name="Light List Accent 3"/>
UnhideWhenUsed="false" Name="Light Grid Accent 3"/>
UnhideWhenUsed="false" Name="Medium Shading 1 Accent 3"/>
UnhideWhenUsed="false" Name="Medium Shading 2 Accent 3"/>
UnhideWhenUsed="false" Name="Medium List 1 Accent 3"/>
UnhideWhenUsed="false" Name="Medium List 2 Accent 3"/>
UnhideWhenUsed="false" Name="Medium Grid 1 Accent 3"/>
UnhideWhenUsed="false" Name="Medium Grid 2 Accent 3"/>
UnhideWhenUsed="false" Name="Medium Grid 3 Accent 3"/>
UnhideWhenUsed="false" Name="Dark List Accent 3"/>
UnhideWhenUsed="false" Name="Colorful Shading Accent 3"/>
UnhideWhenUsed="false" Name="Colorful List Accent 3"/>
UnhideWhenUsed="false" Name="Colorful Grid Accent 3"/>
UnhideWhenUsed="false" Name="Light Shading Accent 4"/>
UnhideWhenUsed="false" Name="Light List Accent 4"/>
UnhideWhenUsed="false" Name="Light Grid Accent 4"/>
UnhideWhenUsed="false" Name="Medium Shading 1 Accent 4"/>
UnhideWhenUsed="false" Name="Medium Shading 2 Accent 4"/>
UnhideWhenUsed="false" Name="Medium List 1 Accent 4"/>
UnhideWhenUsed="false" Name="Medium List 2 Accent 4"/>
UnhideWhenUsed="false" Name="Medium Grid 1 Accent 4"/>
UnhideWhenUsed="false" Name="Medium Grid 2 Accent 4"/>
UnhideWhenUsed="false" Name="Medium Grid 3 Accent 4"/>
UnhideWhenUsed="false" Name="Dark List Accent 4"/>
UnhideWhenUsed="false" Name="Colorful Shading Accent 4"/>
UnhideWhenUsed="false" Name="Colorful List Accent 4"/>
UnhideWhenUsed="false" Name="Colorful Grid Accent 4"/>
UnhideWhenUsed="false" Name="Light Shading Accent 5"/>
UnhideWhenUsed="false" Name="Light List Accent 5"/>
UnhideWhenUsed="false" Name="Light Grid Accent 5"/>
UnhideWhenUsed="false" Name="Medium Shading 1 Accent 5"/>
UnhideWhenUsed="false" Name="Medium Shading 2 Accent 5"/>
UnhideWhenUsed="false" Name="Medium List 1 Accent 5"/>
UnhideWhenUsed="false" Name="Medium List 2 Accent 5"/>
UnhideWhenUsed="false" Name="Medium Grid 1 Accent 5"/>
UnhideWhenUsed="false" Name="Medium Grid 2 Accent 5"/>
UnhideWhenUsed="false" Name="Medium Grid 3 Accent 5"/>
UnhideWhenUsed="false" Name="Dark List Accent 5"/>
UnhideWhenUsed="false" Name="Colorful Shading Accent 5"/>
UnhideWhenUsed="false" Name="Colorful List Accent 5"/>
UnhideWhenUsed="false" Name="Colorful Grid Accent 5"/>
UnhideWhenUsed="false" Name="Light Shading Accent 6"/>
UnhideWhenUsed="false" Name="Light List Accent 6"/>
UnhideWhenUsed="false" Name="Light Grid Accent 6"/>
UnhideWhenUsed="false" Name="Medium Shading 1 Accent 6"/>
UnhideWhenUsed="false" Name="Medium Shading 2 Accent 6"/>
UnhideWhenUsed="false" Name="Medium List 1 Accent 6"/>
UnhideWhenUsed="false" Name="Medium List 2 Accent 6"/>
UnhideWhenUsed="false" Name="Medium Grid 1 Accent 6"/>
UnhideWhenUsed="false" Name="Medium Grid 2 Accent 6"/>
UnhideWhenUsed="false" Name="Medium Grid 3 Accent 6"/>
UnhideWhenUsed="false" Name="Dark List Accent 6"/>
UnhideWhenUsed="false" Name="Colorful Shading Accent 6"/>
UnhideWhenUsed="false" Name="Colorful List Accent 6"/>
UnhideWhenUsed="false" Name="Colorful Grid Accent 6"/>
UnhideWhenUsed="false" QFormat="true" Name="Subtle Emphasis"/>
UnhideWhenUsed="false" QFormat="true" Name="Intense Emphasis"/>
UnhideWhenUsed="false" QFormat="true" Name="Subtle Reference"/>
UnhideWhenUsed="false" QFormat="true" Name="Intense Reference"/>
UnhideWhenUsed="false" QFormat="true" Name="Book Title"/>
I love using my deep fryer every always come out so nice and crispy. This Deep Fried Chicken Nuggets Recipe is a simple recipe, and the deep-fried coating on them is delicious.
This is a great recipe to serve at a party and with football season coming up it would be a great day recipe. Give this one a try; you won't be disappointed. Your guests, family, and friends will love it. Enjoy adapted from Cook's Country cookbook.
Deep Fried Chicken Nuggets Recipe
Author:
Prep time:
Cook time:
Total time: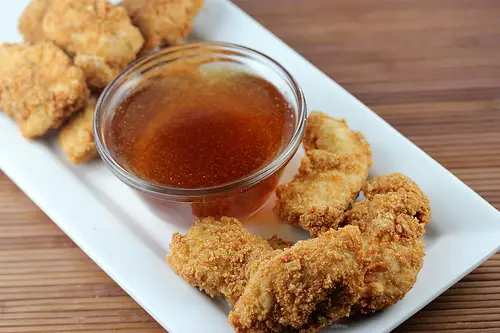 Print
Deep Fried Chicken Nuggets Recipe
4

boneless skinless chicken breasts

2 cups

of water

2 tablespoons

Worcestershire sauce

1 cup

all-purpose flour

1 cup

panko bread crumbs (crushed)
Salt and pepper

2 teaspoons

onion powder

1/2 teaspoon

garlic powder

1/2 teaspoon

baking soda

3

large egg whites
Vegetable oil for deep frying
Instructions
In a large bowl mix together the water, Worcestershire sauce, and one tablespoon of salt.
Cut chicken breast into 1-inch pieces. (A little larger than bite size) place the chicken in the salt mixture and marinate in the refrigerator for 30 minutes.
While the chicken is marinating, in a large pie plate comes the flour, panko bread crumbs, 1 teaspoon salt, onion powder, 3/4 teaspoon pepper, garlic powder, and baking soda.
In a medium size, bowl whisks the egg whites until foamy.
Drain the chicken and pat dry with a paper towel. Coat the chicken in the egg whites and then roll them in the flour mixture placing them on a plate or platter. Let rest for 10 minutes.
While the chicken is resting heat the deep fryer to 350F. Roll the chicken one piece at a time in the leftover coating mix and deep-fry until golden brown. Drain on paper towels.
Serve with your favorite dipping sauce.