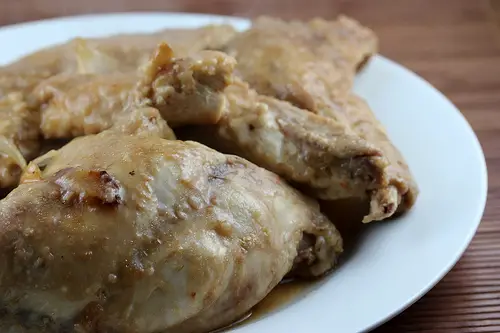 Fall is here and small game hunting season is right around the corner here in upper Michigan, so I thought this would be a great time to put this Fried Rabbit with Gravy Recipe on the menu. I used domestic rabbit for this recipe, but you can also use wild.
If you are using wild rabbit, or an older, tougher rabbit, it is a good idea to parboil it in salt water for about 20 minutes before using it in this recipe.
This is a simple recipe that doesn't require a lot of prep time. The rabbit is really good, and the gravy is delicious. If you have rabbit meat available give this Fried Rabbit with Gravy Recipe a try; it's delicious. Enjoy
Fried Rabbit with Gravy Recipe
Ingredients
1 rabbit (2 ½ to 3 pounds cut into pieces)
Cooking oil
1½ cups beef broth
Salt and pepper
1 medium onion (sliced)
¼ cup flour plus 1 tablespoon (divided)
3 tablespoons cold water
Instructions
Place ¼ cup flour in a gallon plastic bag; salt and pepper to taste. Shake rabbit pieces in the flour to coat.
In a large skillet or chicken cooker, using cooking oil, brown the rabbit pieces at medium high heat on both sides. Remove from the skillet and set aside.
In the same skillet cook the onion until it starts to brown; drain any excess oil if needed. Mix in the beef broth scraping the bottom of the pan to incorporate any bits and pieces of meat into the mixture. Add the rabbit back into the skillet, and simmer covered until done. (165F. or to desired doneness)
While rabbit is cooking mix 1 tablespoon of flour with 3 tablespoons of cold water. When the rabbit is done, remove the rabbit to a serving platter; mix the flour water mixture into the juices in the skillet to form the gravy.
Serve the rabbit with gravy spooned over the top.