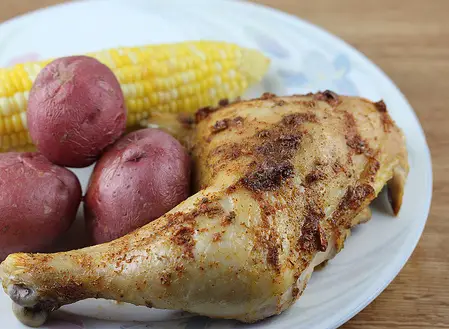 This Garlic roasted chicken leg quarters Recipe, is another simple and good recipe, especially if you like the taste of garlic. Another thing I really liked about this recipe is that it is very economical to serve. This recipe is quick to put together, and cooks for a little less than an hour, so you can have supper on the table fairly quickly. If you're looking for a simple and good recipe to put on the dinner menu give this one a try-it's really good. Enjoy-adapted from southern foods.
Garlic roasted chicken leg quarters Recipe
Ingredients
4 cloves garlic, finely minced
1 teaspoon dried leaf oregano
½ teaspoon salt
1 teaspoon chili powder
¼ teaspoon ground cumin
Ground black pepper to taste
2 tablespoons olive oil
4 chicken leg quarters
½ cup chicken broth (with a slash of white wine included-optional)
Instructions
Preheat oven to 425.
Peel and mince the garlic. In a small bowl mix together the garlic, oregano, salt, chili powder, cumin, and black pepper. Add the olive oil, and mash together using a fork, to form kind of a paste.
Wash chicken quarters and pat them dry-remove any excess fat or skin.
Spray a 13 x 9 baking, or casserole dish, with cooking spray. Coat the chicken with the garlic sauce, and then add the broth. Bake for 40-50 minutes until juices run clear, or to a temperature of 180F.