You can find the traditional recipe for German Chocolate Cake here. The cake is heavy and delicious, and the frosting includes critical components like shredded coconut and chopped nuts. If you look at the list of ingredients, you can see that this meal might not be the healthiest option for you, but sure it is tasty! Because this cake has three layers, you must cut it into manageable portions. Try making a delicious dessert with this recipe and serving it for the holiday of Easter.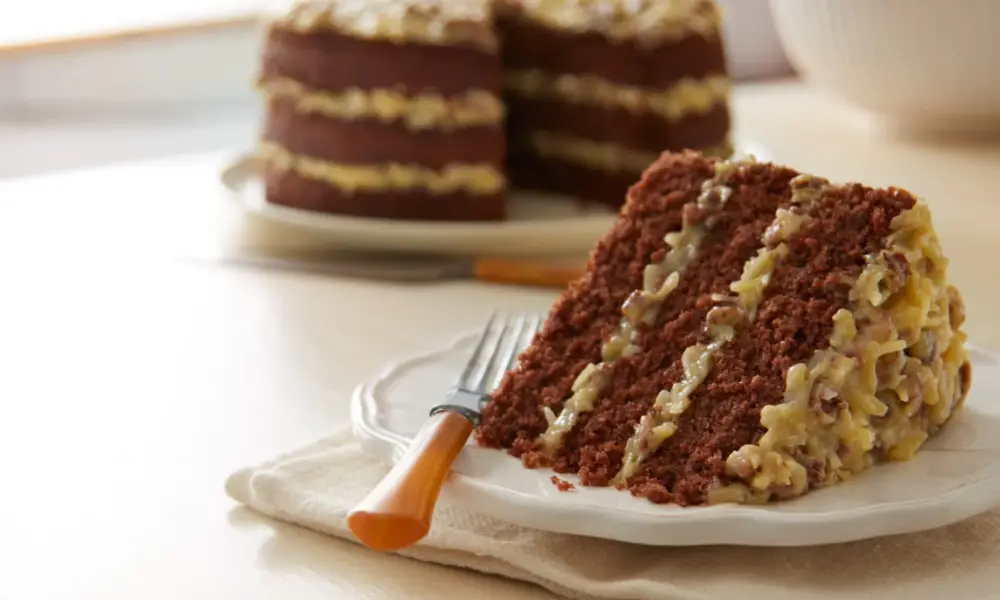 This German chocolate cake has a filling made of gooey coconut and toasted pecans, an exceptionally dark and incredibly moist cake, and a deliciously creamy chocolate buttercream spread on top! The original recipe for German chocolate cake was developed in the 1850s by chocolate maker Samuel German. It calls for the use of sweet baking chocolate and is famed for its unrepentant decadence and indulgence.
What is German Chocolate Cake?
The name "German chocolate cake" is slightly deceptive because the cake is not a German dessert. Traditionally, the cake is a lighter-colored cake with a mild chocolate flavor, and the entire cake is typically covered in coconut pecan frosting. The name "German chocolate cake" is a little bit misleading. The recipe we use is a chocolate cake covered in chocolate frosting to the top and coconut icing in the middle and on top of the cake. If you're a chocoholic, you won't want to miss out on this cake because it's truly unrivaled.
What does German Chocolate Cake Taste Like?
The name "German chocolate cake" is slightly deceptive because the cake is not a German dessert. Traditionally, the cake is a lighter-colored cake with a mild chocolate flavor, and the entire cake is typically covered in coconut pecan frosting. The name "German chocolate cake" is a little bit misleading.
Nutrition
Calories: 591kcal
Carbohydrates: 77g
Protein: 5g
Fat: 31gSaturated Fat: 12g
Cholesterol: 100mg
Sodium: 440mg
Potassium: 313mg
Fiber: 3g
Sugar: 69g
Vitamin A: 535IU
Vitamin C: 0.4mg
Calcium: 118mg
Iron: 1.9mg
German Chocolate Cake Recipe
Ingredients
1 and 3/4 cups (219g) all-purpose flour (spoon & leveled)
3/4 cup (62g) unsweetened natural cocoa powder
1 and 3/4 cups (350g) granulated sugar
Two teaspoons of baking soda
One teaspoon of baking powder
One teaspoon salt
Two teaspoons of espresso powder (optional)*
1/2 cup (120ml) canola or vegetable oil
Two large eggs, at room temperature
3/4 cup (180g) full fat sour cream, at room temperature
1/2 cup (120ml) buttermilk, at room temperature*
Two teaspoons of pure vanilla extract
1/2 cup (120ml) hot water or coffee*
Coconut-Pecan Filling
1/2 cup (1 stick; 115g) unsalted butter
1 cup (200g) packed light or dark brown sugar
Three large egg yolks
One can (8 ounces; 240ml) of evaporated milk
One teaspoon of pure vanilla extract
2 cups sweetened shredded coconut
1 cup (125g) chopped pecans
The Step-by-Step Process for Making a German Chocolate Cake:
1. Prepare the Chocolate Cake as Follows:
Mix the dry ingredients (sugar, flour, cocoa, baking powder, baking soda, and salt). Combine wet ingredients (eggs, buttermilk, oil, and vanilla). Combine all of the ingredients and then mix them into boiling water.
2. Bake at 375°F:
Pour batter into circular baking pans that have been prepared and measure 8 or 9 inches in diameter. To further ensure that. I can remove the cake from the pan without difficulty; I like to cut a round piece of wax or parchment paper to fit the bottom of the pan.
3. Make the German Chocolate Frosting:
In a saucepan, combine the granulated sugar, brown sugar, butter, egg yolks, and evaporated milk, and bring the mixture to a low boil over medium heat. Continuously stir the mixture until it reaches the desired consistency. Take the pan off the heat and then whisk in the vanilla, the nuts, and the coconut. Before using it as a layer on the cake, let it cool down thoroughly beforehand.
Four pictures are included here that show the process of preparing German Chocolate Frosting in a saucepan.
4. Make Chocolate Frosting:
Should melt butter, stir the cocoa powder, powdered sugar, and milk should be added slowly while mixing, and the mixture should be spreadable. To achieve the ideal spreadability of the frosting, add a little quantity of more milk or a little extra powder until you reach the desired consistency. Stir in vanilla.
5. Assemble:
Put one of the cake rounds on the serving stand or plate you will use. After spreading a thin layer of chocolate frosting over the cake layer, add half of the coconut frosting on top and smooth it out into a layer. Keep a space of approximately half an inch between the filling and the edge of the cake. Put the second cake round on top of the first one. Spread a chocolate frosting that is smooth all over the cake. Apply the coconut frosting left over to the top of the cake.
Prepare Ahead of Time and Freeze with these Directions:
To Make Ahead:
Both the coconut and chocolate frostings can be prepared in advance and stored in the refrigerator in an airtight container after being covered. The shelf life of the coconut frosting ranges from one to two weeks, depending on how new the used components were. The chocolate icing will stay fresh for around two to three weeks. Take the frostings out of the refrigerator an hour before you plan to use them so that they can reach room temperature. This will ensure that they are spreadable when used.
To Freeze:
After the cake layers have been baked, allow them to cool completely before wrapping them securely in plastic wrap and placing them individually in a ziplock bag for storage in the freezer. Put the item in the freezer for up to three months. Frost the cakes while frozen; this makes it much simpler to work with the frosting. A well-covered German Chocolate Cake that has been assembled can also be frozen for up to two to three months (I recommend slicing the cake and wrapping each slice well in plastic wrap, then placing it in a freezer-safe container for best results). Before serving, make sure the dish has come to room temperature.
How is German Chocolate Cake Different from Chocolate Cake?
In contrast to the traditional chocolate cake, which is entirely composed of chocolate and is frosted on the top and sides, the German Chocolate Cake takes things to the next level by sandwiching layers of caramel-flavored icing between three layers of chocolate cake, resulting in an exceptionally moist cake.
The flavor of each of these three cakes comes from either cocoa powder or melted chocolate, but the German chocolate cake is the only one that uses melted chocolate exclusively. It was developed by Sam German, who worked for Baker's chocolate company out of Boston. He was the one who came up with the idea for sweet baking chocolate.
What is Special About German Chocolate Cake?
The distinctive flavor of the pecan and coconut icing sandwiched between layers of dense, decadent chocolate cake gives the German Chocolate Cake its name. However, even if you ignore that this chocolate cake has unique icing, it is still not your typical chocolate cake.
Why is a German Chocolate Cake Called German Chocolate?
The origin of the name can be traced back to a man named Sam German, who was either a native of the United States or of England, depending on what you read. In the year 1852, he came up with a recipe for adorable baking chocolate that Baker's chocolate company sold. His name was given to the product by the corporation, but it wasn't until 1957 that "German Chocolate" became widely known.
What is the Difference Between Milk Chocolate and German Chocolate?
The ratios of chocolate liquor and sugar are mixed differently between these two varieties of chocolate. They also have different flavors and can be used in different ways while cooking and baking. The sweetness level of German sweet chocolate is higher than that of semi-sweet chocolate; however, the flavor of the chocolate is more subdued.
Why does German Chocolate Taste Different?
European chocolates, known for their silkier texture and more robust flavor, are made with European butter and cream, both of which have a more significant percentage of total fat. Additionally, more cocoa butter is used in European chocolates than American chocolates, further highlighting the distinctive flavor difference between the two.
Is Cake Healthy to Eat?
It is common knowledge that cake contains a lot of sugar, which is one of the primary reasons overeating is terrible. The American Heart Association suggests that women limit their added sugar intake to 100 calories daily, while men should consume no more than 150 calories daily.
Does Cake Make you Fat?
To begin, it is feasible to consume cake only on a very infrequent basis while simultaneously delighting in a diet rich in nutritious foods and actively pursuing a lifestyle that includes a significant amount of physical activity. A mixture like this is highly beneficial to your health and will not cause you to gain weight, and it is most likely one of the healthiest ways of living. Can find.
Is German Chocolate the Best?
Although our neighbors such as Switzerland, Austria, and the Netherlands produce very high-quality chocolate, we have been voted repeatedly to have the best chocolate in the world. Germany is the birthplace of several well-known international chocolate brands, including Sarotti, Trumpf, Alpha, Hachez, and Ritter Sport.
Conclusion
German chocolate cake is layered with a coconut-pecan frosting filling and topping. It has American roots and gets its name from Samuel German, an English-American chocolate, who created a dark baking chocolate mix—Later incorporated into the cake recipe. It is not German nationality. Though few recipes do so now, sweet baking chocolate is traditionally used to flavor cakes.
Custard produced from egg yolks and evaporated milk serves as the filling or topping. Coconut and pecans are added after the custard has finished cooking. To keep the contents inside the layers, chocolate icing is spread on the cake's sides and piped around them. On occasion, maraschino cherries are used as a garnish.