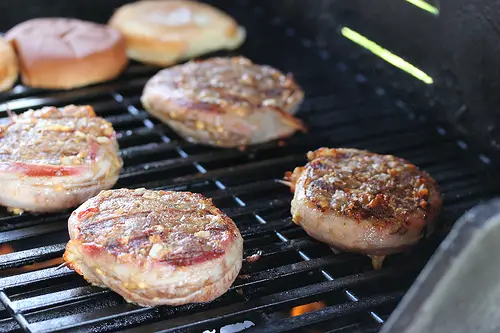 The weather was great here for Memorial Day giving me the chance to fire up the grill again. I prepared this Grilled Bacon Wrapped Hamburgers Recipe before; but used the broiler instead of the grill, because I was out of gas. It was really good- so I decided to grill it for the Memorial Day weekend and like I expected, it came out even better using the grill. There is very little prep time, it's a very simple recipe, and the combination of bacon and cheese flavors makes an excellent tasting bacon burger. The recipe originally called for dividing the burger to make 6. I divided it into 4 instead, for 4 quarter pounders, and it worked out perfect. If you like grilled bacon burgers give this Grilled Bacon Wrapped Hamburgers Recipe a try; you'll save a little time by not having to cook the bacon separately. Enjoy
Grilled Bacon Wrapped Hamburgers Recipe
Ingredients
½ cup shredded Cheddar cheese
4 slices mozzarella cheese
1 tablespoon grated Parmesan cheese
1 small onion, chopped
1 egg
1 tablespoon ketchup
1 tablespoon Worcestershire sauce
½ teaspoon salt
⅛ teaspoon pepper
1 pound ground beef
4 slices bacon
4 hamburger buns (split)
Instructions
Preheat a grill for medium high heat.
In a large bowl, mix together the burger, Cheddar cheese, Parmesan cheese, onion, egg, ketchup, Worcestershire sauce, salt and pepper. (Mixing by hand seems to work the best for me.)
Divide the burger into 4 equal amounts and form into patties.
Wrap the bacon around the burger and secure in place with a tooth pick.
Place patties on the grill, cook for 10 minutes per side, or until well done. Top with mozzarella cheese slices, close the grill until cheeses is melted. Remove toothpicks before serving.
Serve on grill toasted buns with your choice of condiments.