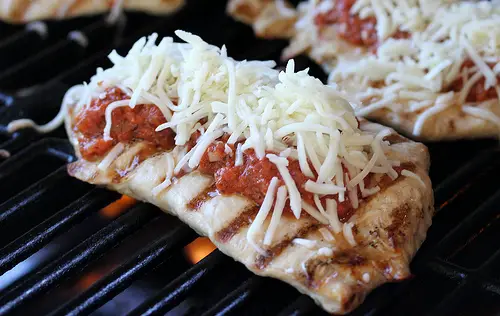 It's a beautiful day here in Upper Michigan so I decided to fire up the grill and give this Grilled Chicken Parmesan Recipe a try.
This recipe actually applies the sauce to the top of the chicken as it is grilling. I wasn't real sure how this would hold up but to my surprise it stayed on top of the chicken nicely. This Grilled Chicken Parmesan Recipe has excellent flavor, and the flavor from the grill makes for a delicious added touch. This is a simple recipe with not a lot of prep or cooking time. Just be sure to pound down the chicken breasts good to cut down on the cooking time.
The next time you fire up the grill give this Grilled Chicken Parmesan Recipe a try. Enjoy
Grilled Chicken Parmesan Recipe
Ingredients
4 boneless skinless chicken breasts (5-6 ounces each)
¼ cup finely chopped onion
2 cloves of garlic (minced)
1 tablespoon butter
1 can crushed tomatoes (14.5 ounces)
¼ cup white wine (I used our homemade wild cherry)
1 tablespoon dried basil
1 teaspoon Oregano
1 tablespoon olive oil
½ cup Parmesan cheese
1 cup shredded mozzarella cheese
Salt and pepper to taste
Instructions
In a large skillet over medium heat, melt the butter, and cook the onions until slightly browned. Add the garlic and cook until fragrant. (Should take a minute or 2)
Stir in the crushed tomatoes, wine, basil, and oregano. Bring the mixture to a boil, reduce the heat to simmer, and cook until the sauce thickens. (About 15 minutes.) Mix in the olive oil and Parmesan cheese; salt and pepper to taste. Set aside.
Lightly spray or oil grates and preheat the grill to medium high heat.
Pound the chicken breasts down evenly to about ½ inch thick. Salt and pepper them to taste on both sides. Place the chicken on the grill and cook until browned on one side. Flip the chicken and top with 2-3 tablespoons of the Parmesan tomato sauce and shredded mozzarella cheese. Close the lid and grill until cheese is melted and chicken is done. (160F.)
Serve the extra sauce with spaghetti, or a side dish of your choice.