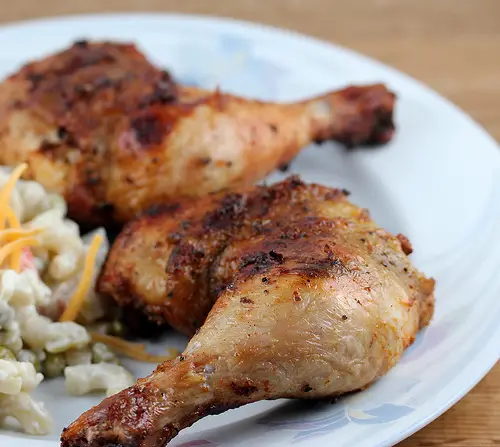 Two wonderful spring days here in Upper Michigan so on the third day I decided to fire up the grill. I should have watched the weather closer because it turned out to be a nasty surprise with temps dropping 20-25 degrees in hours and as I look out the window today it is rain mixed with snow. Oh well, I've grilled in a lot worse conditions than this; I guess I'm just getting anxious for summer.
The weather may have been disappointing, but this Grilled Dry Rub Chicken Recipe was not. This one will go on my favorite list, it is absolutely delicious. If there are any drawbacks to this recipe, it is that, you have to allow enough time for the chicken to absorb the blend of seasoning. I rubbed the chicken the morning I planned on grilling it, fired up the grill at supper time and it was about perfect-I would think you could even do this the night before if you wanted to.
This Grilled Dry Rub Chicken Recipe makes enough to do 2 chickens, about 3-4 pounds each. The next time you fire up the grill give this one a try, it's really good. Enjoy
Tip: if you have the ability to add some smoke to your grill; I think this would be a great addition to the recipe.
Grilled Dry Rub Chicken Recipe
Ingredients
1-2 whole chickens (2-3 pounds each)
2 tablespoons paprika
1½ tablespoons kosher salt
2 teaspoons coarse fresh ground black pepper
1 tablespoon dried basil
1 tablespoon garlic powder
1½ teaspoons onion powder
1½ teaspoons dried oregano
1 teaspoon white pepper
½ teaspoon cayenne pepper-or to taste
Instructions
In a small bowl mix all the seasoning ingredients together until well blended.
How you cut the chicken up is pretty much your choice. I chose to cut the backbone out with a pair of kitchen shears and flatten the chicken bone side down. This also allows me to separate the leg quarters easily; because they usually get done first.
Toughly rub the chicken with the seasoning mix on the skin and bone side-partially separate the skin, without completely detaching the skin, rubbing some of the seasoning mix on the meat under the skin.
Cover and refrigerate for 8 hours or overnight.
Preheat the grill to medium high heat and lightly oil the grill plates
Grill chicken skin side down until nicely browned, flip chicken and continue cooking until done.
Store any leftover rub for later use.