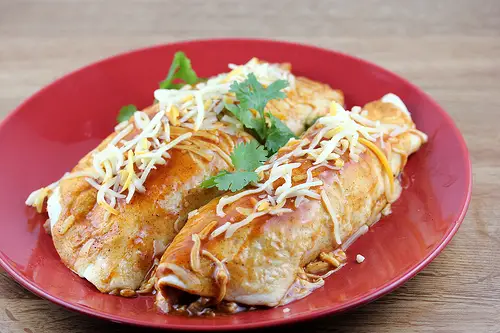 It had been awhile since we have had Mexican food so I decided to put this Baked Steak Burritos Recipe on the menu. This is a simple recipe to but together and doesn't require a lot of ingredients. The original recipe called for 12- 6 inch soft Tacos or fajitas, but I had some 8 inch on hand, so I decided to use them. This is a basic recipe that does have a little heat; but if you want to turn up the heat a little more just change the mild enchilada sauce to hot, or add some cayenne pepper to taste. When you are spreading the re-fried beans kind of eye them up a little bit so you don't run out before the burritos are completed.
This recipe has a good blend of flavors and there is room to add some additional ingredients if you wish to do so. I prepared the recipe as written and it was really good.
The next time you want to put Mexican cuisine on the menu give this Baked Steak Burritos Recipe a try. Enjoy
Baked Steak Burritos Recipe
Ingredients
1½ pound sirloin tip steak. (Thin sliced into strips)
1 package taco seasoning mix
1 can re-fried beans (16 ounce)
6 soft taco or fajitas (8 inch)
½ cup butter or margarine
2 cups shredded cheddar cheese
3 medium green onions (sliced)
1 can mild enchilada sauce (10 ounce)
1 cup Mexican cheese blend
Instructions
Pre-Heat oven to 400F.
Slice the sirloin steak into bite size thin strips. Melt the butter in a large skillet and cook the steak to your desired doneness. Just be for the steak is done stir in the taco seasoning mix. Drain if needed.
Using a microwavable dish or sauce pan- using the microwave or stove top heat the refried beans until warmed. (I also slightly warmed the soft tacos in the microwave to make them easier to work with.)
To make the burritos, using a spoon, spread the refried beans to about 1/ 4 inch from the edge of the wraps. Top with the beef strips, green onion and cheddar cheese. Roll up and fold in the sides.
Place the burritos in a 13x9 baking dish, top with the enchilada sauce and sprinkle on the Mexican blend cheese; bake for about 10 minutes, or until burritos are heated through, and cheese is melted.