This easy royal icing recipe can help you take your cookies to the next level. Only three ingredients are required for this frosting, plus any additional food coloring you like. It can be used to create cookies with alluring decorations for any occasion or celebration. Make outlined and flooded cookies using this recipe. Royal icing is a delectable, long-lasting frosting that can be used to decorate gingerbread houses or sugar cookies.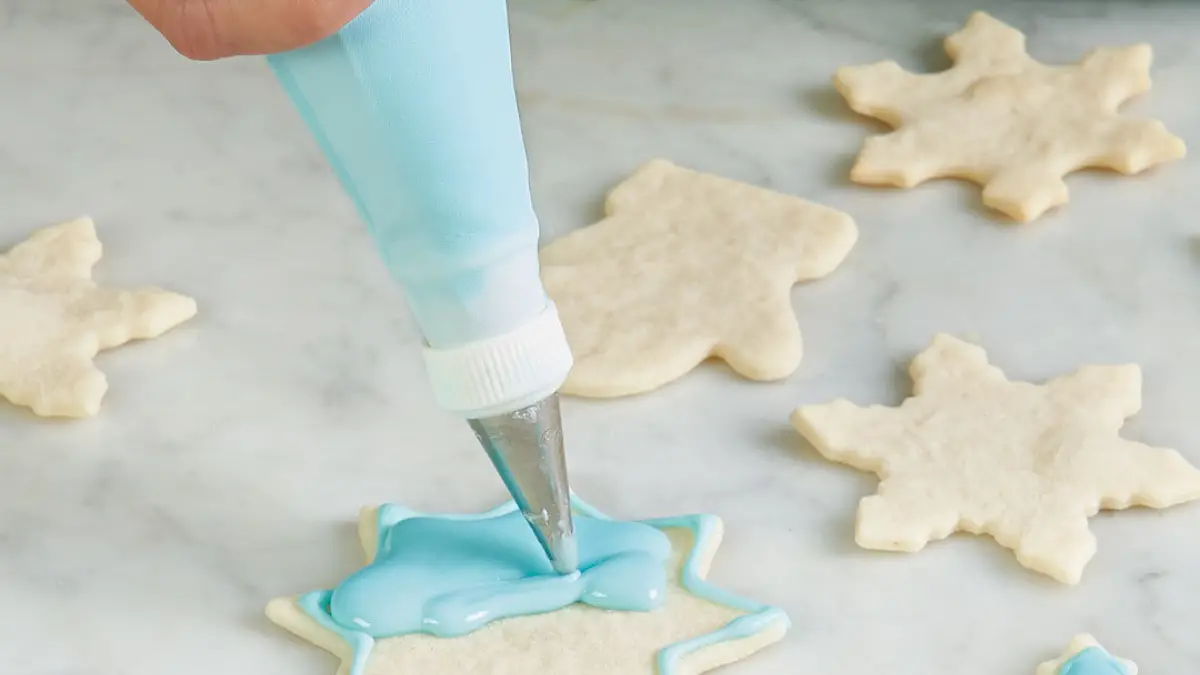 Your cookies can be as complex or simple as you wish; either way, they will have a glossy finish and look fantastic. If you'd like, you can enlist the help of your children in decorating the cookies to make them seem freshly baked. While other recipes call for egg white powder or meringue powder instead of egg whites, traditional royal icing uses whole egg whites. Using egg whites could save you from having to go shopping because they are the most widely available ingredient in this recipe.
What is Royal Icing?
Although it is quite simple to produce, there are a few very precise steps you must follow when doing so. The royal icing, an egg white, and confectioners' sugar frosting spread readily and hardened to a consistency similar to candy. Egg whites, powdered sugar, flavoring, and color are added to royal icing, a decorative hard white icing. Due to its durability and flawless look, royal icing is used to embellish anything from elaborate wedding cakes to cookies and gingerbread houses.
In its most basic state, royal icing is white. It is typically dyed red or green to adorn foods with a Christmas theme. The royal frosting was utilized as long back as the 17th century. There is a legend about how it got its name, which is intriguing to investigate even if it is most likely false: Before the middle of the 1800s, it was referred to as "egg white frosting." It was not seen as regal before being used to garnish Queen Victoria's wedding cake.
How to Make Royal Icing?
Cold eggs are simpler to separate. They whisk up easier when the egg whites are closer to room temperature. If you have the opportunity, I advise separating them beforehand. Egg whites can be whipped by hand, but it will take a lot of effort, so a stand mixer works best. Avoid rushing the recipe and adding all the sugar at once to the egg whites. If you add the sugar too rapidly, the volume decreases. The protein in the egg whites can be better broken down by whipping them at a slow speed.
The whisked egg whites become more elastic and voluminous as a result. Ensure that the basin you use to whisk the egg whites is extremely clean. The egg whites won't get fluffy if there is any leftover water or fat. You can use anything you have on hand, though I like to use gel food coloring.
The frosting may become too thin if you add too much liquid food coloring, but gel food coloring is more concentrated and can be used in smaller amounts. To prevent your icing from clogging your piping tips, add a drop or two of water to restore it to the correct consistency. Avoid making the icing too thin, though, since this can result in air bubbles, which are bad for decorating cookies.
Use real vanilla extract instead of synthetic vanilla for the greatest flavor. When using royal icing to decorate cookies, flood it after you pipe the outline. Flooding refers to filling the middle of the cookie with thinner icing rather than piping a thin outline around it. The icing stays on the cookies by first piping an outline. Add a few drops of water to the icing and whisk with a spatula for a flooding consistency. If necessary, add water until the icing reaches the required consistency.
Six tablespoons or three large pasteurized egg whites, measuring 3 ounces
One teaspoon of flavoring essence, such as vanilla
1 pound (460 grams) or 4 cups of powdered sugar
Using a bowl and a whisk, combine the egg whites and vanilla extract in a stand mixer equipped with a whisk attachment bowl. Combine at medium speed for 15 to 20 seconds until it begins to foam.
Add the powdered sugar: Sprinkle the egg whites with 1 cup of the powdered sugar. Sifting is important since powdered sugar tends to clump. While mixing at medium speed, incorporate the sugar. To fully incorporate the powdered sugar into the liquid, you might need to scrape down the bowl's sides. Sift in 1 cup of the powdered sugar at a time and repeat the process three more times, scraping down the edges to ensure that all powdered sugar is integrated into the frosting.
To determine the thickness of the icing, lift the whisk and how long it takes for the icing thread to vanish from the icing's surface. The piping consistency needs to be achieved in 8 to 10 seconds. If it isn't thick enough, continue the process by sifting one tablespoon of powdered sugar into the icing and mixing it.
If you want to tint the icing, divide it into several bowls and add different food colorings to each bowl. For piping or flooding, check the thickness and add additional sifted powdered sugar as needed or thin with water. Pour some icing up, and then let it drip down into the icing in the bowl to create flooding. After two or three seconds, the drizzle should melt back into the surface. If it vanishes immediately, your icing is too thin and needs more powdered sugar.
Create cookie decorations: Fill a piping bag with a #3 tip or smaller with the piped frosting. If desired, fill in the gaps with flooding icing on your cookies, pipe patterns, or decorations.
Cookies should be allowed to cure for at least two hours with a gentle fan blowing over them, if not overnight, to ensure that the icing is dry before storing. Keep cookies between parchment paper in an airtight container for up to five days.
Why do they call it Royal Icing?
Since they developed the capability to mill sugar into powder in the 1700s, icing has been produced with powdered sugar and egg whites. When it was created, royal icing was given the term by expert bakers. It was used for the wedding cake of British Queen Victoria's eldest daughter 80 years later, and pictures of the cake were printed in the Illustrated London News.
After that, having a wedding cake with royal icing that is not as large as one produced for royalty, which may weigh several hundred pounds, became commonplace. The 1600s are when Royal Icing is first mentioned. When it was used to cover and embellish Queen Victoria's wedding cake in 1840, it was given the title "Royal."
Can you Use Royal Icing to Decorate a Cake?
Yes, it's a fantastic icing to build embellishments for cakes coated in fondant, ganache, and other crusted coatings and cakes covered in royal icing. However, using it on buttercream is not recommended since it will absorb the buttercream's fat, get stained and discolored, and possibly slide off. For exact details in your designs, you can utilize piping nozzles in various diameters.
Use fine nozzles and a piping bag loaded with royal icing to create delicate designs like lace, string work, beading, trellis, eyelet lace, cross-stitching, and latticework directly to the sides or top of a cake as decoration. Using larger nozzles, you can create shells, scrolls around the cake's base, or intricate 3D decorations on the cake itself. Making Royal icing flowers, either one petal at a time or using the new "Russian" tips to pipe full miniature flowers, is currently one of the more popular uses for piping nozzles.
Additionally, you can create cake decorations on wax paper or an acetate sheet, then transfer them to the cake once they are dried. There is a wide variety of Royal icing techniques, and while they may take some time to perfect, they are well worth the effort to create an exquisite cake.
Can you Add Food Coloring to Royal Icing?
Royal icing can be colored with food coloring. However, avoid using liquid food colors because they will change the consistency of your icing. Make the icing with gel paste colors, then set it aside for a few hours before using it so the sugar crystals can absorb the color. It's important to remember that the colors will go darker if you add too much gel paste since they will get brighter as they absorb more of the material.
Add more and let it stand if you want a solid hue; if it isn't dark enough, add more and let it stand once more. Repeat these steps up until the desired hue is obtained. Many colors added at once may result in a darker color than needed, wasting the batch of icing.
How do you Apply for Royal Icing?
Rich fruit cakes, Genoese, or pound cakes would first be covered with a thin layer of jam, followed by marzipan, before being iced with royal icing. The cake would then be covered in thick Royal icing that had a softening agent added to it. Like buttercream is applied, the icing is spread over the top and edges of the cake and then smoothed out with a scraper to give a smooth finish. Applying the icing to the top and sides of the cake and then going over it with a spatula to pull the icing into the peaks will allow you to get the desired finish, such as peaks for a Christmas cake.
You would thin the icing and then drizzle it over the top of baked goods made with yeast, such as buns or cakes. When flooding cookies with royal icing, you first create a border around the cookie with icing that has been slightly diluted with water but is still thick enough to pipe. Once that border has dried, you flood the design's center with icing that has been thinned a bit more.
Is it Safe to Eat Royal Icing?
Some people are concerned about salmonella because royal icing is created with raw egg whites, especially if young children or elderly individuals will consume the finished product. If you're worried about this, buy pasteurized egg whites, which are available in most grocery stores' refrigerator sections. Instead of using fresh egg whites, you can also use dried egg whites.
Another choice is to purchase Royal icing powder mix, which already contains powdered egg white. The well-beaten combination of egg white and icing sugar was called "Egg White" icing. I hope this has been useful and has clarified some of your questions about royal icing. Please inquire in the comments section below if you have further questions concerning the topics I discussed in this essay. I will do my best to respond.
Conclusion
Compared to royal icing made with meringue powder, egg white royal frosting requires more upkeep. If you used egg whites, your icing or iced goodies should be kept in the refrigerator for about three days. On the other hand, the meringue powder could be warmed up on the counter if you used it. Additionally, royal icing can be frozen in a tightly closed container for up to a month. Finishing your design before the royal icing dries is the most difficult aspect of utilizing it.
Plan your baking operations carefully because royal icing needs 6 to 8 hours to thoroughly dry. The icing becomes harder and trickier to handle as it dries, so keep it moist until you are done. Confectioners' sugar and water or lemon juice are the components of royal icing to accomplish this. To an aUseamp cloth or stir a few drops of water. You only need to add one or two drops of food coloring to your pure white icing to add a hint of color.