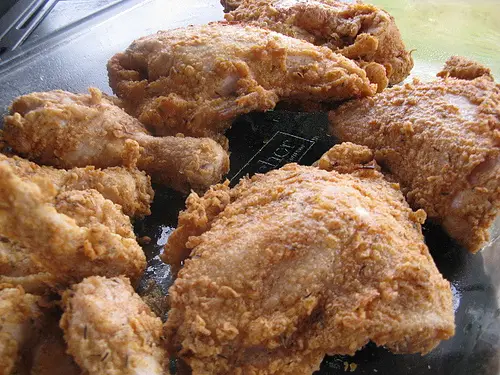 I love fried chicken; I am always looking for good chicken recipes. This Oven Fried Chicken Recipe is very simple and fast to prepare. There is not a lot of prep time. It would be very easy to make extra coating mix and store it in the refrigerator for future use. The amount I made here was about right for a 3 to 3 ½ pound cut up chicken. I browned the chicken just to a light brown before placing it in the oven. Use a meat thermometer and bake to 165F. It's delicious-Enjoy

Oven Fried Chicken Recipe
Ingredients
Ingredients for Coating
1 cups flour
2 Tablespoons paprika
1 tablespoons salt
1 tablespoons pepper
1½ teaspoon dry mustard
1½ teaspoon dried thyme
½ teaspoon ground ginger
½ teaspoon dried oregano
Ingredients for Chicken
2 eggs
½ cup milk
3 -3½ lbs chicken pieces
Vegetable oil for browning
Instructions
Combine coating ingredients mix well.
Place coating in a large zip lock bag. Beat eggs and milk together; dip chicken into egg mixture, place in bag and shake to coat.
Heat oil (about ½ inch) over medium-high heat. Brown chicken and place in 13x9 pan. Bake uncovered at 350 for 45 minutes to 1 hour or until temperature reads 165F.