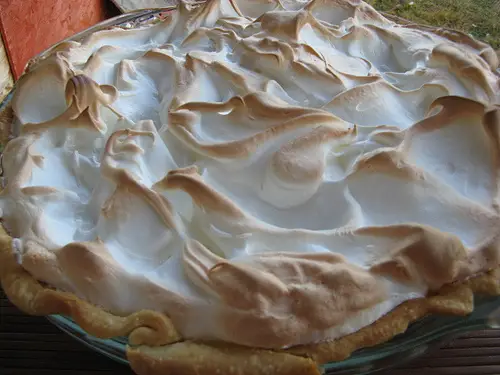 There is nothing more delicious then the sweet taste of chocolate. Today there is so many recipes that just call for instant chocolate pudding, cooked is becoming a thing of the past, but there is something about cooked chocolate that takes it to the next level. Sweet, Smooth and delicious. I topped this with Meringue; but you also could use whipped cream.  This is a very simple recipe with not a lot of prep time making this a terrific treat for upcoming Thanksgiving or Christmas Holiday.

Chocolate Cream Pie Recipe
Ingredients
1⅔ cups water
3 tablespoons cornstarch
5 tablespoons cocoa
1 (14 ounce) can sweetened condensed milk
3 egg yolks, beaten –save whites for Meringue
2 tablespoons butter or margarine
1 teaspoon vanilla
1 (9 inch) baked pastry shells
Instructions
Mix water and cornstarch and cocoa until smooth.
Sir in sweetened condensed milk and egg yolks.
Cook until thick in saucepan stirring constantly
Stir in 2 tablespoons butter.
Add vanilla.
Cool slightly (stirring occasionally).
Pour into baked pie shell.
For meringue; preheat oven to 400° and brown or top with whipped cream after chilling.