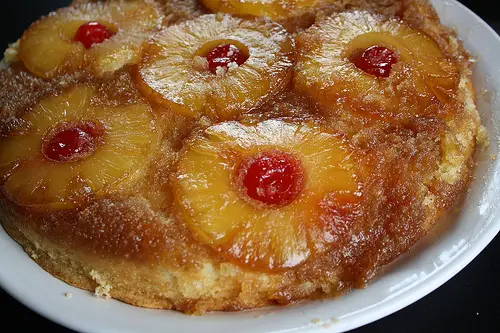 This Pineapple Upside Down Cake is baked in a cast iron skillet. I grew up with this. This cake is my favorite and my mother cooked it year after year for me on my birthday. The brown sugar and butter flavors with the pineapple is just excellent. This Pineapple upside down cake is simple and quick to prepare. Top it with whip cream and what a treat!
Pineapple Upside Down Cake Recipe
Ingredients
¼ cup butter
⅔ cup packed brown sugar
1 (20 ounce) can sliced pineapple, drained
1⅓ cups flour
1 cup sugar
⅓ cup shortening
¾ cup milk
1½ teaspoons baking powder
½ teaspoon salt
1 large egg
maraschino cherries
Instructions
Preheat oven to 350°F.
Melt butter in iron skillet.
Sprinkle brown sugar over butter.
Arrange pineapple slices on top brown sugar/butter.
Place cherries in center of slices.
Beat remaining ingredients till well blended.
Pour over pineapple in skillet and bake for 35 to 45 minutes or until tooth pick inserted comes out clean.
Remove from oven and turn onto heat-proof plate.
Do not let the cake cool in the cast iron skillet-it probably will stick.
Enjoy!