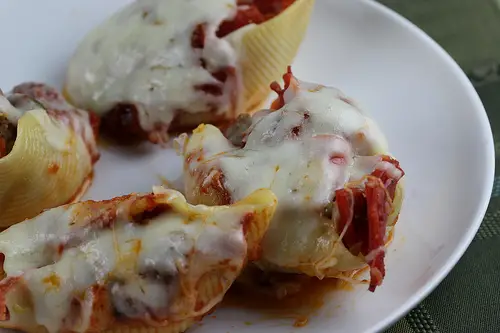 I am always looking for a good stuffed shell recipe. I love stuffed shells but don't like the amount of work that usually goes with them. When I saw this Pizza Stuffed Shell Recipe I decided to give it a try. This is a small recipe only calling for 12 jumbo shells to be used, but I am sure you could just double or triple the recipe for the amount required. Due to the ingredients being in smaller increments (only 12 shells) it cuts down on the prep time significantly, so if you're in the mood for Italian tonight, give this Pizza Stuffed Shell Recipe a try. Enjoy
Pizza Stuffed Shell Recipe
Ingredients
12 jumbo pasta shells
1 tablespoon oil
1 green bell pepper (chopped)
1 medium onion, chopped (1/2 cup)
1½ cups chopped pepperoni (about 6 ounces)
1 cup chopped Italian plum tomatoes (about 3 medium)
8 oz. (2 cups) shredded 6-cheese Italian cheese blend
1 (15-oz.) can pizza sauce
Instructions
Cook pasta shells to desired doneness as directed on package. Drain.
Meanwhile, heat oven to 350ºF. Spray 11x7-inch (2-quart) glass baking dish with nonstick cooking spray.
Heat oil in large skillet over medium heat until hot. Add bell pepper and onion; cook and stir 3 to 4 minutes or until tender. Remove from heat.
Add pepperoni, tomatoes and 1½ cups of the cheese; mix well.
Fill each cooked pasta shell with pepperoni mixture. Place in sprayed baking dish. Spoon any remaining pepperoni mixture between shells.
Spoon pizza sauce over stuffed shells. Cover with foil and Bake at 350ºF. for 30 minutes.
Uncover; sprinkle with remaining ½ cup cheese. Bake an additional 5 to 10 minutes or until sauce is bubbly and cheese is melted.