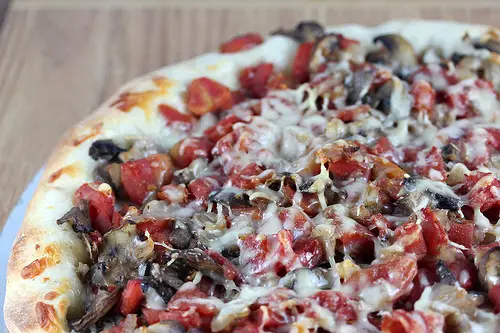 I have wanted to do a Stuffed Crust Pizza Recipe for some time. The original plan was for a Chicago style pizza, but I ran into some issues obtaining the ingredients that I needed to complete the recipe. So mainly what happened is; I wound up with a combination of the two. I don't like changing plans in the middle of a recipe because the outcome can be disastrous. However, this turned out to be a pleasant surprise. If you like a lot of topping on your pizza you will love this recipe; it is loaded with Italian sausage, cheese and a few other ingredients. The only thing I felt was missing was a green pepper. This is a simple recipe that is mildly seasoned; if you like your pizza spicy, I would season to taste. For a single pizza the top is really loaded, if you wanted to stretch it out a little bit I am sure it would make two but the full recipe does fit nicely inside the crust edges created by the mozzarella cheese stick stuffing. If you are looking for a simple Stuffed Crust Pizza Recipe give this one a try, there is very little prep time, and you and your family will love it. Enjoy
Simple Stuffed Crust Pizza Recipe
Ingredients
1 Premade refrigerated Pizza Crust
1 pound bulk Italian sausage
2 cups shredded mozzarella cheese
7 Mozzarella cheese sticks
8 ounces sliced fresh mushrooms
1 small sweet onion (chopped)
2 teaspoons olive oil
1 (28 ounce) can diced tomatoes (drained)
¾ teaspoon dried oregano
½ teaspoon salt
¼ teaspoon fennel seed (optional)
¼ teaspoon garlic powder
½ cup freshly grated Parmesan cheese
Instructions
Preheat the oven to 450 degrees F.
Stretch dough over the pizza pan extending it out about an inch over the pan borders to allow room for folding over the string cheese.
Circle the string cheese around the border and fold the dough over the cheese.
Crumble the sausage into a large skillet over medium-high heat. Cook and stir until evenly browned. Remove the sausage with a slotted spoon, and sprinkle over the dough crust. Sprinkle mozzarella cheese evenly over the sausage.
Add the mushrooms and onion to the skillet; cook and stir until the onion is tender. Stir in the tomatoes, oregano, salt, fennel seed and garlic powder.
Spoon the tomato mixture over the mozzarella cheese and Sprinkle on the Parmesan cheese over the top.
Bake for 15 to 20 minutes in or until crust is golden brown.