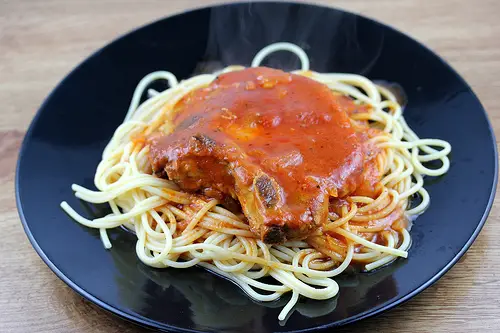 I needed to save some time. Things that needed to be done outside were getting away from me so I figured it was time for another slow cooker recipe. The slow cooker can be your best friend when you other chores that need to get done.
 I choose this Slow Cooker Spaghetti Pork Chops Recipe because the cooking time was long enough so I could get my other work done while it was cooking. This is a simple recipe and does not require much prep time. I prepared the recipe as written and it was really good without any additional seasoning; but there is room to spice it up a little more if you wish to do so. (If you like a little bit of heat maybe some crushed red pepper.)
The next time you need to save some time, or maybe just want to avoid a hot kitchen because of the summertime heat, give this Slow Cooker Spaghetti Pork Chops Recipe a try. Enjoy
Slow Cooker Spaghetti Pork Chops Recipe
Ingredients
4-6 pork loin chops (bone-in)
2 tablespoons olive oil
3 cans tomato paste (8 ounces each)
1 can condensed tomato soup (10½ ounces)
1 medium onion (finely chopped)
1 bay leaf
1 teaspoon celery seed
1 teaspoon garlic powder
1 teaspoon salt
¼ teaspoon black pepper
½ teaspoon Italian Dressing
Spaghetti
Instructions
Mix all the ingredients together in the slow cooker except for the olive oil and chops.
In a large skillet brown the chops on both sides in the oil. Add the chops to the slow cooker.
Cook on low for 7-8 hours, or until pork chops are tender.
Remove the bay leaf and serve over spaghetti.