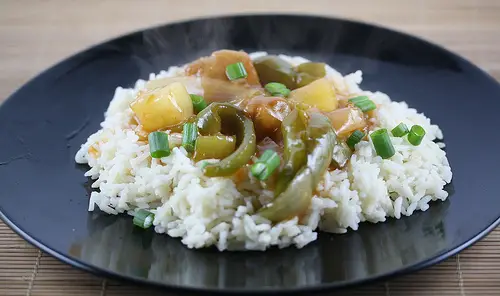 I like Chinese food, but I like to stay away from the sugar as much as I can, but unfortunately this Sweet and Sour Pork Recipe doesn't meet that standard. Intra family pressure kind of pushed me toward this recipe. They wanted sweet and sour pork on the menu, and sweet and sour port is what I prepared.
This is a simple recipe with not a lot of prep time, but you do have to allow at least an hour to marinade the cubed pork. The amounts of soy sauce in this recipe are very small, but don't let that fool you. Follow the recipe and it will come out perfect. If you do want to cut down on the sugar, I think you could use Splenda in place of the sugar.
If you like sweet and sour, give this Sweet and Sour Pork Recipe is excellent.
Sweet and Sour Pork Recipe (Wu Lo Yuk, Ku Lu Jou)
Ingredients
1 pound pork butt-cubed (I used boneless pork chops)
1 teaspoon salt
¼ teaspoon sugar
1 teaspoon soy sauce
1 egg white
2 green onions, chopped
1 quart vegetable oil for frying
½ cup cornstarch
1 tablespoon vegetable oil
3 stalks celery, cut into ½ inch pieces
1 medium green bell pepper, cut into 1 inch pieces
1 medium onion, cut into wedges
salt to taste
1 cup water
¼ teaspoon salt
¾ cup white sugar
⅓ cup apple cider vinegar
¼ cup ketchup
½ teaspoon soy sauce
1 (8 ounce) can pineapple chunks ( with liquid)
2 tablespoons cornstarch
¼ cup water
Instructions
In a bowl large enough to hold the cubed pork, combine 1 teaspoon salt, ¼ teaspoon sugar, and 1 teaspoon soy sauce. Mix in the egg white and green onions; Wisk to thoroughly combine.
Mix in the cubed pork and marinade for one hour or longer.
Preheat a deep fryer or heavy saucepan with one quart of oil to 365 F.
Coat the pork with 1/ 2 cup of corn starch, and deep fry until golden brown.
Heat 1 tablespoon oil in a wok or large fry pan, over medium heat, stir in the celery, green bell pepper, and onion, and cook until tender crisp. Salt to taste, remove from heat, and set aside.
In a saucepan, mix 1 cup water, ¼ teaspoon salt, ¾ cup sugar, apple cider vinegar, ketchup, and ½ teaspoon soy sauce, and bring to a boil.
Pour the sauce into the wok with the stir fried vegetables; add the deep fried pork, and the undrained pineapple.
Bring to a boil and add the 2 tablespoons of corn starch mixed with 1/ 4 cup water, cook till thickened.
Serve over hot rice.