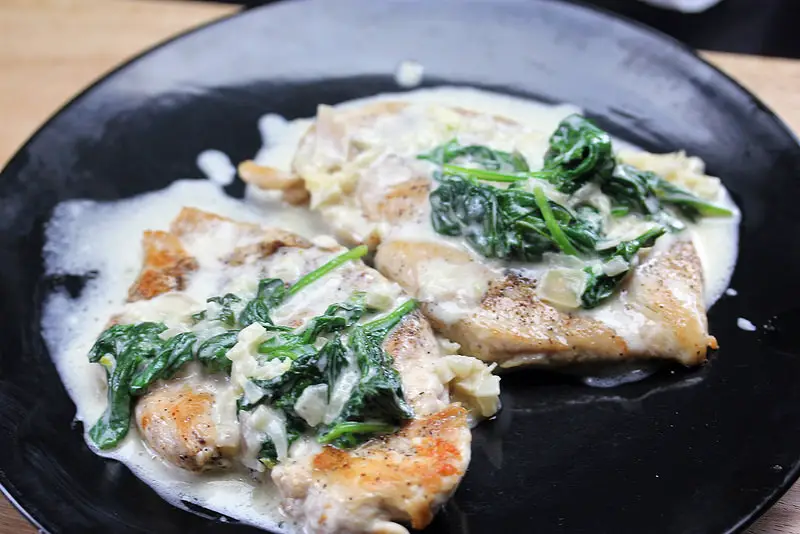 This Chicken Florentine for Two recipe has a delicious combination of flavors, and the health benefits of fresh spinach. This recipe is the perfect amount for serving two people.
The recipe calls for Parmesan cheese mixed in the sauce and then used again as a garnish – I just used it in the sauce because I did not want to overpower the recipe with the Parmesan cheese. However I did include that step in the recipe.

Chicken Florentine for Two
Ingredients
2 boneless skinless chicken breasts
Salt and pepper
2 tablespoons vegetable oil (divided)
6 ounces fresh baby spinach
1 small shallot (minced)
1 garlic clove (minced)
½ cup chicken broth
½ cup heavy cream
¼ cup grated parmesan cheese (divided)
¼ teaspoon lemon zest (grated)
1 teaspoon lemon juice
Instructions
Pound chicken down to ½ inch thickness; pat dry with paper toweling and salt and pepper on both sides; set aside.
Heat 1 tablespoon of the oil in a large nonstick skillet over medium high heat. Place the spinach in the skillet with ⅛ teaspoon salt. Cook stirring occasionally until spinach has wilted; set spinach aside in a colander to drain any excess liquid.
Wipe skillet clean with paper towels and place 1 tablespoon of oil in the now empty skillet. Cook chicken over medium high heat until nicely browned and chicken registers 160F on an instant read thermometer. Set chicken aside on a plate and tent with aluminum foil to keep warm.
Place the garlic and shallot into the oil and cook until fragrant, and then mix in the broth and cream. Cook until reduced to about ⅔ cup (about 7 minutes on medium heat). Off heat and mix in two tablespoon of Parmesan cheese, lemon zest, and lemon juice. Salt and pepper to taste and then mix in the spinach. Let set long enough for the spinach to get warmed through.
Serve chicken topped with the spinach and sauce, and the remaining 2 tablespoons of Parmesan cheese.
Adapted from Cooking for Two CookBook