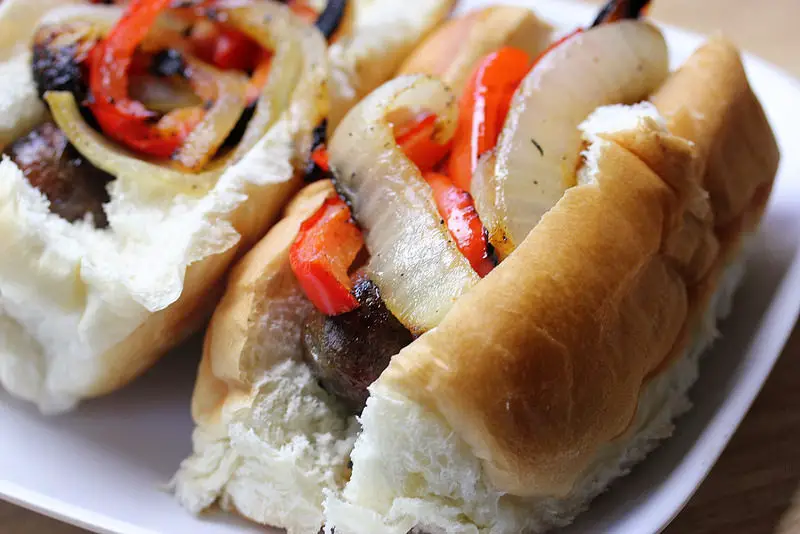 Fire up the grill and give this Grilled Sausages with Bell Peppers and Onions recipe a try. The red bell peppers and sweet onion give this sausage sandwich a delicious flavor.
There are a lot of flare-ups from the sausage so keep a close eye on the grill when grilling them.

Grilled Sausages with Bell Peppers and Onions
Ingredients
3 red bell peppers (cut into ¼ inch strips)
1 large sweet onion (cut in half and sliced into ¼ inch thick)
3 tablespoons white vinegar
2 tablespoons sugar
1 tablespoon vegetable oil
1/ teaspoon salt
½ teaspoon pepper
1- 13 x 9 inch disposable pan
2 pound sweet Italian sausage links
12- 6 inch sub roles (I used brat buns)
Instructions
In a large microwavable bowl mix together the peppers, onion, vinegar, sugar, vegetable oil, salt and pepper. Microwave for 7 minutes or until vegetables are just tender.
Preheat and prepare grill on med high heat. Place vegetables in the pan and place on the grill, cover, and grill for 20 minutes maintaining a grill temperature of 375 to 400F. Turn of all burners except 1 and move pan of vegetables to the hot side of the grill and stir the vegetable mixture.
Place the Italian sausage on the cool side of the grill, cover, and grill for 8 minutes. Flip sausage, stir vegetables, and cook for another 8 minutes. Places sausage in pan, move pan to cool side of grill and then place the sausages on the hot side. Grill turning as needed until sausages are done. (160F) return sausages to the pan, remove pan from grill, and cover with aluminum foil; let rest 5 minutes before serving.
Serve with bun, sausage, and cover with the vegetables.
Adapted from
Cooks Country